High rates of childhood malnutrition and premature death in poor regions in Karnataka state in South India have spurred an innovative project to involve local women to take the lead in tackling the problem. The project was set up with funds from the World Bank and the Karnataka state government and has been successful in improving nutritional status.
The women are trained and supported to act as nutritional volunteer workers who monitor and record the health of children below three, adolescent girls between 11-18, and pregnant and breastfeeding mothers. They also provide basic health and nutritional advice and free supplements of a high calorie, high protein locally made food called Shatkti Vita. The programme, which is currently transitioning to become self sufficient, is committed to providing continued access to Shatkti Vita through sale in the market at affordable prices, as the economic impact of covid-19 has reduced poorer people's ability to pay for food and diets have deteriorated.
SV Ranganath, Indian Administrative Service, former chief secretary, Government of Karnataka.
During the years 2008-2009, there was a spike in child deaths from malnutrition in Karnataka, mostly in the North Karnataka Districts, which have poorer human development indicators than the rest of Karnataka State. Continuous drought over several years was a serious problem and in response to public outcry, the issue of malnutrition assumed high priority at policy and governance levels. 
After discussion with Veena Rao, an expert in nutrition we agreed to set up and support an inter-generational, inter-sectoral initiative, The Karnataka Comprehensive Nutrition Mission, with a strong emphasis on behaviour change at family level, and bridging the dietary gap by nutritional supplementation. Real time monitoring of nutritional and behavioural indicators was an important part of the new strategy, which complemented the existing nutritional programme. The unique feature of the strategy is that it has been based on partnership between government, non governmental organisations, women self-help groups, and the community.
Veena Rao, Indian Administrative Service (Retd) advisor, Karnataka Comprehensive Nutrition Mission 
The Karnataka multisectoral nutrition pilot projects conceptualized and led by the Karnataka Comprehensive Nutrition Mission (KCNM) (2014-2019) were based on a unique set of partnerships and a strategy of interventions that directly addressed the root causes of malnutrition in India. They were implemented in Chincholli Block, Kalburgi District, and Devadurga Block, Raichur District, two of the most deprived Blocks in Karnataka. The population of Chincholli Block is 254,287 and in Devadurga the population is 280,606.The Karnataka Health Promotion Trust (KHPT), a non-governmental organisation (NGO) with a significant presence in the area was selected as the key implementation partner. Partnering with an NGO had several advantages, mainly flexibility in operations as compared with government procedures. Most importantly, the NGO was in a position to recruit and appoint the dedicated nutrition field staff required, particularly the Village Nutrition Volunteers who are the frontline workers of this nutritional intervention.
The strategy follows the inter-generational approach, which means ensuring that the three links of the intergenerational cycle—children below three years old, adolescent girls between 11-18 years, and pregnant and breast feeding mothers are provided with nutrition supplements and health information and support  simultaneously. This is done by personal visits by the village nutritional volunteer to individual households. The dietary supplement which has been provided is a nutritious fortified blended food, called Shakti Vita, made from locally available agricultural produce—wheat, pulses, soya, millet and peanuts. The supplement is fortified with Calcium, Iron, Thiamine, Riboflavin, Niacin, Ascorbic acid, Dietary folate, and Vitamin A. Production units were set up in Chincholli and Devadurga Blocks (supported by Global Alliance for Improved Nutrition) and women from the local women's self help groups were trained to run and manage them.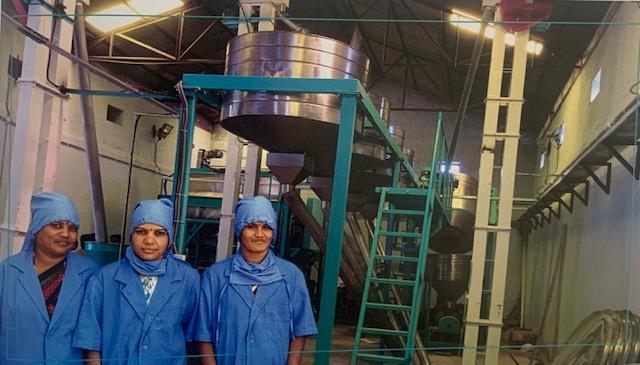 The voluntary nutrition volunteer workers who are also members of local self help groups are trained to create a Nutrition and Health Card for the target population to record height and weight, and parameters specific to each group, such as, initiation of complementary feeding among children, episodes of diarrhoea, immunisation status, iron and folic acid distribution, pregnancy weight gain, and so on. The volunteer worker enters this information on a monthly or quarterly basis, and this provides real-time data for monthly monitoring at village, block, and mission level. The volunteer worker visits each home for counselling on essential health and nutritional messages, which are communicated using flipcharts and posters. As the nutrition messages are given by trusted local women, many of whom who have first hand experience of benefiting from the nutritional interventions, they are interested in and co-operating with the programme at a village level.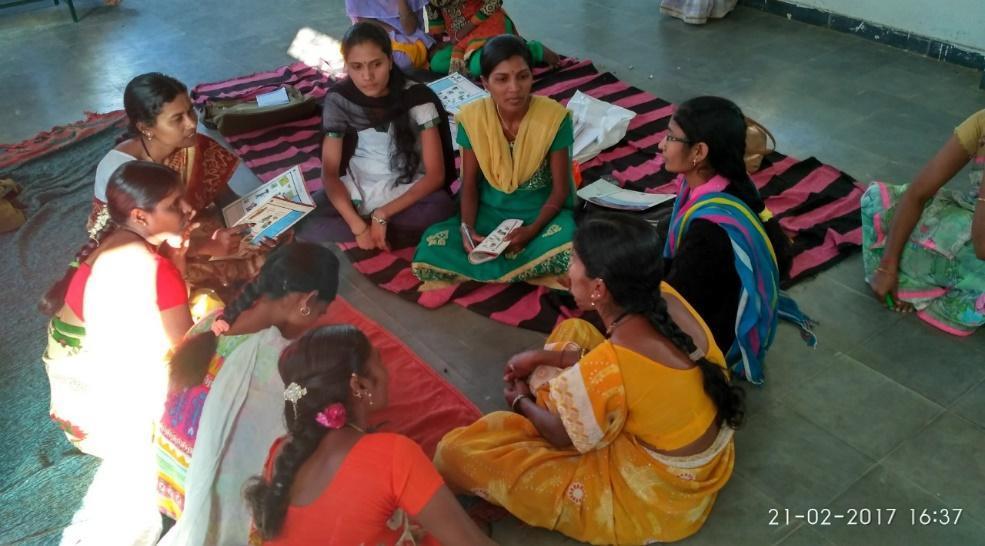 Before the funding from the World Bank and government came to an end in June 2019, a decision was taken to transition from dependency on government grants to commercial marketing of Shakti Vita. Despite covid-19, we anticipate launching Shakti Vita in the market by October 2020. We now have a different set of partnerships, and are confident that the production units run by the self help groups will become economically self-sufficient. We have recently received approval from the Food Safety and Standards Authority of India (FSSAI) for production and marketing of Shakti Vita. Shakti Vita is urgently required in the market in the current covid-19 pandemic situation, as the daily diets of the poor have reduced drastically, and there is no accessible affordable alternative. 
This unique partnership, based on tackling the root causes of undernutrition in India, such as the information and dietary deficit within families in poorer and marginalised populations in one state in rural India, has been proven to be a success. Wider uptake of such interventions in other areas where undernutrition is a problem should be considered.
K Ramachandra Rao – Team Leader, NGO Partner – Karnataka Health Promotion Trust (KHPT)
We were happy to be selected as the field partner for implementation of the pilot projects. In both Chincholli and Devadurga Blocks, poverty levels are high, and families are largely dependent on daily wages from agricultural labour, which also results in high incidence of seasonal migration. 40% of the villages are inhabited by the Lambani community which is a local nomadic community, who live in small and scattered settlements called tandas. Malnutrition among children, women, and adolescent girls is higher than the State average, as is the maternal mortality ratio, infant mortality rate, under 5 mortality rate, and rate of low birth weights. 
We faced multiple challenges during the course of implementation, but we were able to find answers. The first problem we encountered was that even after training, the village nutrition volunteers found the regular monthly and quarterly data collection difficult. This resulted in a high turnover of volunteers initially. But with time and experience, we simplified the data collection by reducing some parameters and the periodicity, and the volunteers also became more competent and confident. 
The other serious implementation problem we encountered was difficulties faced by volunteers in accessing some of the remote tandas. These were located about 6-7 kilometres away from the main village. Bus services are very limited and about 15% of the tandas had no bus services at all. We suggested to Karnataka Comprehensive Nutrition Mission to readjust some funds for purchase of bicycles for the volunteers, and both KCNM and World Bank immediately agreed. This gave the volunteers a sense of great pride, and enabled them to pay regular visits to all families in the remote tandas. 
The volunteers were young women selected from the village in which they worked. The communication materials we taught them to use were developed by Karnataka Comprehensive Nutrition Mission. One of the positive benefits of this project is that it has created a cadre of nutrition volunteers in the community who are not only conversant with health, nutrition, but also showing the benefits of empowering women.
We also created partnerships with local political leaders including Gram Panchayats. Though initially they did not show much interest, they gave us full support and encouragement when they saw the positive results.
Voices from the Field: Village Nutrition Volunteer, Shivakala, VNV Ganajali village 
"I am a victim of child marriage. My husband deserted me. I was criticised a lot in the village, but I did not let it defeat me. I became a VNV, and I am supporting adolescent girls to improve their physical and intellectual capacities, so that they can have big dreams, just not limiting their lives with a marriage.  As I am making a lot of changes in the village, I am able to regain my lost respect."
SV Ranganath is retired Chief Secretary, Govt of Karnataka and has no competing interest to declare.
Veena S Rao is an adviser to the Karnataka Nutrition Mission and works closely with the Government of Karnataka, Tata Trusts and IPE Global. No competing interests to declare.
K Ramachandra Rao works closely with the Karnataka Comprehensive Nutrition Mission and Tata Trusts and has no competing interest to declare.