The covid-19 pandemic has had a sudden and brutal impact on everybody's work, leisure, social and family life for the past eight months, with financial hardship for many. During lockdown and with social distancing measures still in place, social media has been an outlet for many: to make connections, keep in touch, stay up to date and occasionally vent spleens. I have been exploring ways to use social media to understand the impact of the pandemic on clinical work and wider society. 
The long and winding career path from being a consultant public health doctor to my current position as junior doctor back on the medical wards leaves me in a unique position from which to reflect. Working on Medicine of the Elderly wards by day, we are rostered to cover the covid-19 wards on night shifts. The work of assessing, treating, referring and escalating patients is much the same as it was when I was last a junior doctor 25 years ago, but this time wearing fluid resistant masks, yellow aprons, blue gloves and disposable visors. In the intervening years I have worked as a Public Health doctor, contributing for example to the management of a mumps outbreak, the 2009 influenza pandemic, and tackling maternal and child poverty. I am now retraining as a GP, a three-year programme that includes 18 months in hospital wards. 
I have learnt from each of these stages of my career. I understand the rhythm of clinical care in an admissions unit and hospital ward. I can explain why success in tackling the covid-19 pandemic and its repercussions on physical and mental health and wellbeing will involve work across the three Public Health domains of health improvement, health protection and quality improvement. I worry about the impact of the lockdown on health inequalities. I can also marvel at the speed and effectiveness of healthcare organisations, including the hospital where I work currently, in rearranging their services to prepare, adapt, and respond to covid-19 while also supporting staff and communicating with the wider community. The GP training programme helps me reflect on patients' ideas, concerns and expectations, and psychosocial factors, both when assessing an individual, and when thinking about the impact of the lockdown, testing, legislation and enforcement measures required in responding to this pandemic and how they will impact on patients and society. 
Over the past 4 years I have studied use of social media for clinical topics including infectious diseases, surgery, oncology and cardiology. I set out to apply this approach to covid-19 tweets. One challenge in a pandemic is the sheer volume of tweets. I was determined to capture as many tweets as possible during the UK lockdown, starting with school and restaurant closures on 20 March 2020. Twitter limits the number of tweets and period of extracts, so I had to act quickly. I used TAGS to download tweets that used the #COVID19UK hashtag.
The most widely shared posts give an insight into the viewpoints that have struck a chord with others—for example if they have been useful, interesting, funny, or controversial. Some of the most popular tweets include healthcare workers sharing perspectives on a range of topics including personal protective equipment, testing and the importance of observing the lockdown. Over the first few weeks the list of top 25 tweeters using the #COVID19UK hashtag included a speech language therapist, a paediatrician, a surgical trainee and a palliative medicine doctor. However, the most widely shared tweets also include populist tweeters posting conspiracy theories or encouraging vigilantism. I have continued to update the analysis throughout the lockdown period and now have 6 months of data available for further study, though this will need a team of academics from a range of disciplines.
Unlike conference tweeting, with its closely-connected communities of like-minded tweeters, the #COVID19UK tweets capture a more complex story that would require extensive curation before dissemination. It would be irresponsible to share the unfiltered posts, with some of the views expressed throughout lockdown encouraging behaviours that could place members of the public at risk and put the health service under even greater strain. Encouragingly, #NHS and #StayHomeSaveLives featured prominently early on. 
The covid-19 pandemic has affected everyone differently, producing a range of responses. Social media provides a lens on these viewpoints. As we enter the next stage of the pandemic, many people will have similar views on limiting spread including use of masks, testing, quarantine, local lockdowns, and vaccination in the future. However, there may be hesitancy, reluctance or scepticism among some patients, relatives and carers. Being able to communicate the purpose of simple preventive measures—and encouraging their routine use for everyone's safety—is an important part of our work as clinicians. Monitoring social media responses will help us gauge the scale of the task ahead.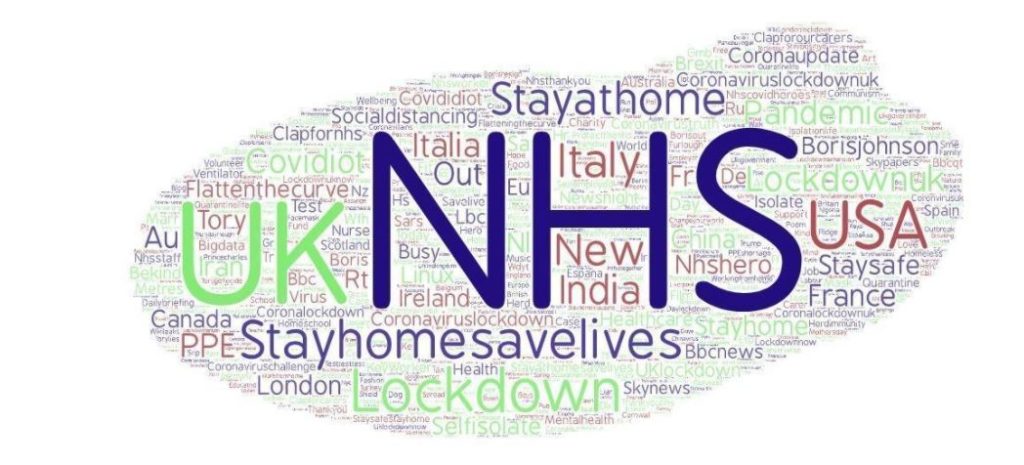 Word cloud of hashtags in #COVID19UK tweets 20 March to 9 April 2020 (n=108,749 instances of 955 hashtags). Excludes generic instances of COVID/ Corona virus.
Graham Mackenzie, GPST2, NHS Education for Scotland, UK. @gmacscotland
Competing interests: none.