Sometimes a small gesture can make a big difference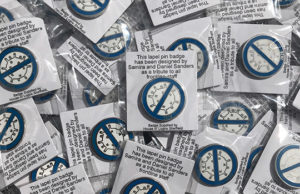 When covid-19 first arrived in the UK this year, I'd watched enough Grey's Anatomy to know that something was wrong. At a time of much uncertainty, whether people were hoarding toilet roll, or locking themselves up in their houses, one thing was clear; people were scared. My name is Samira, I'm 15 years old and I have a 12 year old brother called Daniel and we are the children of two medics. During the course of this global pandemic, we learnt the true extent of what a small gesture can accomplish.
In early March before lockdown, our family went into self-isolation when our Mum tested positive for coronavirus. In an attempt to distract us, Dad suggested that we design a pin badge for NHS frontline workers. This is how FrontlinePin was born. 
It's a circular badge with an NHS blue border and line crossing over the image of the virus with the year "2020" inscribed on the bottom. We felt that the simplicity of the design helped convey our struggle against covid-19. We had no idea what would happen next.
Through personal requests and social media, we have given out over 10,000 pins to NHS frontline workers all over the UK for free. It has been our way of showing our immense gratitude to the NHS at this time. 
The response from NHS Frontline workers themselves has been extraordinary (far beyond what we could have anticipated).
Through the messages posted, we came to realise that for many, it has acted as a badge of honour. A memento. A symbol. Whether porter, nurse, doctor or healthcare assistant, they were all there together on the frontline. 
Some of the recipients suggested that had this come from the Government or managerial staff, their response would have been different. FrontlinePin is apolitical, and a badge designed by two children—whose mother contracted covid-19 and whose father worked on a covid Ward. I feel that staff wear the badge because they are proud to be part of the NHS and support what it stands for: caring without prejudice or agenda.
The weekly clap for healthcare workers was been the general public's means of displaying their appreciation, however, it has faced criticism by some revolving around the idea that it is an empty gesture. Many NHS workers have been lacking PPE, decent wages and suitable working conditions; some may argue that clapping for a few minutes each week was not sufficient recognition for those who have risked or lost their lives trying to save others. 
However, it still reveals the depth of sentiment the public has towards their NHS.
The pins were initially funded through a charitable donation, and we thought that the public would donate. Conversely, an interesting part of FrontlinePin is the fact that it has spread generally through NHS word of mouth. Despite its feature on BBC Radio Sheffield, BBC Look North and an article in the Sheffield Star, the general public don't seem to be aware of it. The donations have come primarily from NHS staff—making this a gift from one NHS worker to another. 
The reception of delight we received for our genuine and personal attempt to bring solidarity at this difficult time has been heart-warming. It's evident in the plethora of photos, videos and messages of thanks which began locally in Sheffield, but have now come from places all over the UK, such as Edinburgh, Newcastle, Manchester, Birmingham, Leicester and London.
I hope that Daniel and I have created something that has helped boost the spirits of frontline workers during this unprecedented time. We want the pins to help in as many ways as possible, with any subsequent profit from donations also going back to the NHS. 
Frontline Pin has shown me that a simple act can mean a lot to people, affecting those whom you have never met, and probably never will. 
I hope that it will continue to mean something to NHS frontline staff, if only a reminder that there are two children in Sheffield who would like to say thank you. 
You can find us on Instagram and Twitter—@frontlinepin—and people can donate to the production of the pins (allowing us to continue to give out more) on our website: 
Samira Rani Sanders, year 10 student. 
Daniel Solomon Sanders, year 7 student. 
Competing interests: None declared