Patients Annie Folkard and Elaine Manna, ophthalmologists Alastair Denniston, Dawn Sim, Peter Thomas and Pearse Keane and optometrist David Barker reflect on how covid-19 is accelerating a transformation in eye health 
Eye health is one of a number of areas that has felt the impact of the covid-19 pandemic. Normally eye health accounts for around 10% of hospital out-patient appointments in the UK. The need to protect patients by reducing trips to hospital, combined with a redeployment of most hospital staff to covid wards and critical care, has led to an overnight reconstruction of hospital eye services, working with patients, community providers and technology partners. Necessity has fostered a willingness to experiment with new models of care, with patients and professionals being more willing to do things differently, and to learn fast. Here, we share our personal experiences of this journey, building on our research and innovation, and what we are learning for the future of eyecare.
Life at home: on-line communities and support
Annie Folkard, Patient and Director of the Birdshot Uveitis Society
As a patient on immunosuppressants for inflammatory eye disease, I have been 'shielding' at home for several weeks now. I am used to my own company, and working from home really has not been that different to my normal office life, apart from having more distractions. I still do weekly Pilates but it is now by Zoom, and I have had more time to spend on my favourite past-time of textiles.  
Fortunately my eyes have been fairly stable on my current treatment for some time. However as an eye health community we are very aware that not everybody is so fortunate. Many people are very anxious, and so we have mobilised our existing networks to provide as much support and information as we can.
For me, this has been mainly through my work with the patient group that supports people with my rare eye disease, Birdshot Chorioretinopathy (https://birdshot.org.uk). We already have an active online community, but decided to set up a separate covid-19 discussion group, because posts about the virus had started to dominate all other conversations.  
A new departure for us has been to start participating in fortnightly webinars led by Alastair and the Birmingham team. Our members have been really appreciative of these live events in which a panel of professionals and patients share their covid experiences. You can send in questions and get answers live; you can share experiences and stories from lock-down. It is an opportunity to be real, to share what we do know, and provide as much support as we can. Other initiatives I am aware of around the country include patient-led social media and Whatsapp groups to provide peer-to-peer support. Some of these already existed, but have become much more important during "lockdown." 
Alastair Denniston, Consultant Ophthalmologist
As a specialist in uveitis, I care for people with sight-threatening eye inflammation many of whom are on immunosuppressants. Our partnerships with patient groups have highlighted the extent to which anxiety about access to clinical services and treatment is a major issue—sometimes more than the disease itself. Our patient support group would normally meet only every three months, but we wanted to provide more, not less, support at this time, and therefore set up the first of our "Zoom" meetings. 
It was great to work with Annie on this, and to use technology to enable patients to join these calls—not just from our local area, but from across the world. We have learnt as we have gone along, but people have commented that they "felt informed and supported emotionally" and were keen for this to be a regular event. It is very democratic. Live polls give instant feedback—which is how we found out that people wanted to meet fortnightly. 
We don't pretend to have all the answers, but our patient community have really appreciated the opportunity to check in with each other, make new friends, and get advice. We've also linked in to national groups and have shared our learnings—what works and what doesn't. It is important to use a platform that is easy to access for people who may have poor vision and who don't have a computer or a smartphone. We used Zoom and offered to teach people how to use it ahead of time, but most people found it easy to use. In fact when we can finally meet face-to-face again, we plan to always include a "dial-in" option for our future patient meetings as it has enabled a much wider group of people to join—including people who are carers, financially disadvantaged, or who find social gatherings difficult.
Life in the eye clinic: triage, telemedicine and digital as the new normal
Elaine Manna, Patient
I have age-related macular degeneration (AMD). In 2000 I completely lost the sight in my left eye. In 2012, I realised that the same process was starting in my right eye. This time there were new treatments available and my sight was saved. But I—like many others—need ongoing access to monitoring and treatment. When covid hit I was worried that the hospitals would be completely closed and we would not get the treatment we need. But in fact this crisis has led to patients and professionals working together in new ways.
My hospital—Moorfields Eye Hospital—has put telephone consultations and video calls in place for most patients. For those of us who need to come to the hospital for treatment, we find that it is much quieter than usual. It is a bit surreal to see so few other patients! We were provided with masks and gloves at the entrance of the building and our temperatures were taken. Social distancing was in place with many seats covered in tape to keep everyone safe.
When I saw my consultant, Pearse, our usual smiles were hidden by the face masks. Covid-19 was at the forefront of all our minds. I realised I hadn't been in a room with anyone for six weeks. To reduce contact time, the whole process was stripped back and faster than usual—short discussion, no retinal scans, straight to my [anti-VEGF] injection treatment as we already knew that my wet AMD was currently active. I was deeply grateful to everyone continuing to provide world-class care in such anxious and demanding times. 
When this crisis is over I want there to be "no going back" to the way we did things before. I feel the virus has shown us more clearly what is really important, and what isn't. We have been forced to innovate together and discover new ways of doing things that can help reduce the number of times patients like me need to come to clinic, and also how to make those clinic visits more efficient and faster.
Pearse Keane, Consultant Ophthalmologist
At Moorfields, I look after people with retinal diseases such as AMD. The challenge we face is that our patients are typically older and thus at high risk from covidd. But on the other hand if we delay treatment, they may lose their sight irreversibly. I am always impressed by how my patients with AMD embrace new technologies, from e-readers to voice assistants. I feel a sense of optimism and purpose that we can work together, both to get through and to greatly improve care for the future.1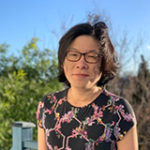 Dawn Sim, Consultant Ophthalmologist
In my role as Head of Telemedicine for Moorfields I have long advocated smarter use of resources to provide more convenient and efficient care.2 The last few weeks have shown why these approaches are set to become the new normal. 
First, we had to prioritise. In a short few weeks, we embarked on the largest risk stratification exercise that I have ever undertaken. Apart from those for whom a face-to-face appointment was deemed essential (such as patients receiving intravitreal therapy for wet AMD),  many patients have been transferred to either a telephone or video clinic.  
Clinical staff—including the consultant and trainee ophthalmologists and optometrists—that usually attend these clinics used the calls to explain the new system, evaluate any areas of concern and particularly any symptoms suggesting deterioration. We are now helping patients to test and monitor their vision at home using smartphone applications.3 They are asked to align dots on the screen on their smartphones to test for distortion in their central vision. Our clinical staff use video consultations to train and enable patients to use these applications. A patient survey of 50 patients using these applications show a high level of acceptance as well as empowerment in their care. In the recovery phase, this information will enable us to triage patients who have stable eye disease into collaborative care pathways with optometry.2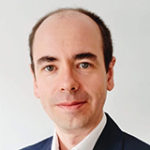 Peter Thomas, Consultant Ophthalmologist 
As Director of Digital Innovation at Moorfields, I work closely with Dawn on transformation of our clinical services. The current covid crisis has forced a spectacular acceleration—it feels like we have achieved more of an NHS culture-shift in the last few weeks than in the preceding few years. In our first four weeks since shutdown, we performed well over 1,000 video consultations. It works well: of the first 331 patients seen in our A&E department, we were able to manage 78.6% at home. We are now rolling this out across other clinical areas including oculoplastics, paediatric ophthalmology, and pharmacy. We are implementing dynamic pre-consultation webforms to enhance clinical data capture and allow patients, for example, to report symptomatology in a structured manner, supported by smart forms for patients to report symptoms, and the home monitoring that Dawn has described. 
We need to accelerate this remote decision making—from wearable technologies to drop-in imaging centres. Store-and-forward telemedicine platforms must follow to connect, seamlessly, community optometry and hospital ophthalmology, allowing bidirectional clinical communication and image transfer. Such systems are producing excellent results in small pilots, and these should be scaled to allow widespread shared care.
Since the onset of the crisis, we have seen many positive developments in digital health, including: central procurement of digital healthcare platforms (e.g. Attend Anywhere); pragmatic governance advice given  by NHSx4; and an increased acceptance at all levels that the benefits new technologies can be weighed against their risks without fixation purely on the latter. I would like to see this spirit of innovation continue, since it is supporting a rapid, but long overdue process of digital transformation in all areas of the NHS. 
David Barker, community optometrist
As an optometrist working in the community these have been challenging times, with many practices closed completely or at least working under very different conditions. We have also been doing many telephone and video consultations, and have been surprised at how many minor eye conditions we can deal with like this. Patients who have been anxious about going to hospital find it reassuring to speak to us as someone they know, and who can provide a link to the hospital eye services. We are all re-thinking our models of care, planning how their practices will look like when we emerge from the crisis. 
Conclusion
Even before covid, many eye health services across the world were struggling as we tried to bridge the gap between capacity and demand in the face of the increasing prevalence of sight-threatening diseases such as macular degeneration, glaucoma and diabetic retinopathy. Innovation through patient-partnership, service redesign, and digital health solutions has been accelerated by the disruption of covid-19. In the midst of the suffering caused by this pandemic, we have an opportunity to reimagine how we deliver care. We cannot go back to our pre-pandemic approach—it wasn't working then and it definitely won't work now. 
Now is not a time for redecoration, or even a renovation. For the sake of our patients here and around the world, we must take this opportunity for a total rebuild, founded on research, innovation and partnership.
Alastair K. Denniston, consultant ophthalmologist, Department of Ophthalmology, University Hospitals Birmingham
Annie Folkard, Patient and Director of the Birdshot Uveitis Society
Elaine Manna, patient
Dawn A. Sim, consultant ophthalmologist, Head of Telemedicine, Moorfields Eye Hospital, London
Peter Thomas, consultant ophthalmologist, Director of Digital Innovation at Moorfields Eye Hospital, London
David Barker, community optometrist, Rawlings Opticians
Pearse A. Keane, consultant ophthalmologist, Moorfields Eye Hospital, London
Contributors:
Annie Folkard has lived with Birdshot Chorioretinopathy for twenty years, and is the Director of the Birdshot Uveitis Society. Elaine Manna has lived with Age-related Macular Degeneration for twenty years. Alastair Denniston is an Ophthalmologist specialising in Uveitis, Clinical Lead for Research and Innovation in Digital Health, University Hospitals Birmingham, part of the NIHR Biomedical Resource Centre at Moorfields Eye Hospitals NHSFT & University College London and Director of INSIGHT, the Health Data Research Hub for Eye Health (HDRUK). Pearse Keane is an Ophthalmologist specialising in Retinal Disease and is NIHR Clinician Scientist, NIHR Biomedical Resource Centre at Moorfields Eye Hospitals NHSFT & University College London. Dawn Sim is an Ophthalmologist specialising in Retinal Disease and is Lead for Telemedicine, Moorfields Eye Hospitals NHSFT and Peter Thomas is a Paediatric Ophthalmologist and is Director of Digital Innovation, Moorfields Eye Hospital. David Barker is a community optometrist for Rawlings Opticians. The team lead a series of overlapping studies in which patients and professionals work closely together to deliver patient-centred research and innovation, including the acceleration of digital solutions including artificial intelligence into eye health.
Competing interests: AF none; EM none;  PT none; DB none; DS works as a consultant for Big Picture Medical Ltd; PAK works as a consultant for Google Health, Novartis, Roche, and Apellis, is an equity owner for Big Picture Medical Ltd, and has received speaker fees from Heidelberg Engineering, Topcon, Allergan and Bayer; AKD none.
Patient consent obtained.
References:
Keane PA, Topol E. Medicine and meteorology: cloud, connectivity and care. The Lancet. 2020 Apr;

395(10233

):1334.

https://doi.org/10.1016/S0140-6736(20)30813-8

Kern C, Fu DJ, Kortuem K, Huemer J, Barker D, Davis A, Balaskas K, Keane PA, McKinnon T, Sim DA. Implementation of a cloud-based referral platform in ophthalmology: making telemedicine services a reality in eye care. Br J Ophthalmol. 2020 Mar;104(3):312-317. Doi 10.1136/bjophthalmol-2019-314161. Epub 2019 Jul 18. PubMed PMID: 31320383; PubMed Central PMCID: PMC7041498.

Buechi R, Faes L, Bachmann LM, Thiel MA, Bodmer NS, Schmid MK, Job O, Lienhard KR. Evidence assessing the diagnostic performance of medical smartphone apps: a systematic review and exploratory meta-analysis. BMJ Open. 2017 Dec 14;7(12):e018280. doi: 10.1136/bmjopen-2017-018280. Review. PubMed PMID: 29247099; PubMed Central PMCID: PMC5735404.