As the UK swelters under record temperatures we need to focus on the effect that this is having on our patients and also our staff throughout healthcare services. Last year we saw a more prolonged spell of hotter than usual weather and Public Health England reported later that during this period there were up to 860 extra deaths.
On 26 July last year a commons select committee reported that: "Heatwaves place strain on the NHS and social care system. During the 2013 heatwave, double the amount of consultations for heat-illness took place compared to a non-heatwave year. Hospitals can overheat to 30 degrees Celsius when the temperature outside is just 22 degrees Celsius. However, the NHS only asks hospitals and other healthcare organisations to report on their preparation for winter pressures. NHS England's Emergency Preparedness, Resilience and Response assurance does not account for the risk of overheating hospitals, and the Care Quality Commission do not inspect for it either. The ability of nursing homes to cope with the serious health impact of heatwaves on older people is not assessed. This is worrying given that in the 2003 heatwave, excess deaths in nursing homes in some parts of the UK rose by 42%."
The select committee proposed that a first action should be to "Ensure NHS England issues guidance on planning for summer pressures, to ensure that adequate steps are taken to prepare the NHS for more frequent heatwaves. NHS organisations should submit annual heatwave plans to ensure they are prepared for the sudden onset of a heatwave."
We are now seeing temperatures even higher than in 2018, but hopefully lasting for a shorter period of time. However the abilities of the NHS to protect both vulnerable patients and its own staff has remained unchanged. It is fair to say that the ward environments in many places will be totally unbearable this week causing distress and concern for all those in them whether working, visiting, or as patients. This follows reports which suggest that activity has peaked at levels previously not seen in summer.
To reflect on how summer pressures have become similar to winter pressures you need to look at emergency department attendances and emergency admissions to hospital. In June 2019 there were 2,108,001 patients admitted to A&E in England, which compares to 2,000,086 in January 2018. There were 528,808 emergency admissions in June 2019, compared to 303,089 in January 2018. This is truly staggering and shows the massive strain building on the NHS month on month, even on less extreme days with the pressure on front line staff unrelenting. The "in-hospital" conditions add to this pressure, given constraints and pressures, there has been little or no movement visible on the government suggestions. It is the "minor" issues like keeping staff and patients hydrated when necessary infection control measures mean there are limited fresh supplies and staff being so busy they cannot leave wards to find cold drinks. Tired and overheated staff are not capable of giving the best that their patients deserve and it is really time that hospitals and those running them took notice of environmental factors on top of all the existing stresses and strains. The NHS needs to take up the challenges posed by the select committee last year as the predictions are that this is only going to become more extreme every year.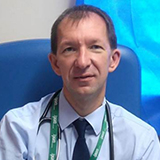 Nick Scriven is a consultant physician and President Society for Acute Medicine.
Competing interests: None declared.