Clinical audit has long been a feature of clinical training for junior doctors, so I expected time to be set aside in which we could do it. However, the reality was hours of work, usually conducted outside working hours, rifling through archived notes in a solitary and unfulfilling manner which normally stopped when the data collection was complete. My findings were rarely implemented or re-evaluated by the same junior doctor and the opportunity to witness any improvement in patient care was even rarer. I had always engaged in clinical audit, even winning an award for the best audit in my F1 year, but I was left uninspired and struggled to see the relevance of my efforts.
Unbeknown to me, however, I had actually started to engage in quality improvement activities at the end of my F1 year. I started a job in emergency medicine after my F1 job in oncology, and I noticed that the guidelines on neutropenic sepsis antibiotics were relatively unknown and even less frequently implemented.
A colleague and I devised a neutropenic sepsis pathway for oncology patients in the emergency department, including an alert label for blood tests. We were supported by the lead for acute oncology. The pathway ran for six months and then an F2 colleague assessed any benefit. There was an initial improvement; however, at that stage the pathway hadn't become embedded and the benefit was not sustained after we left the department.
This project preceded the introduction of the quality improvement framework so it was not supported by any guidance. However, I took away valuable learning points: the importance of colleague and departmental engagement, regular reviews and updates to the implementation, and early implementation of factors to achieve sustainability.
My next quality improvement project took place when I was a core medical trainee. The hospital was running a pilot to determine whether there was benefit to be gained by junior trainees engaging in quality improvement instead of, or as well as, clinical audit and, if so, whether a quality improvement framework would be useful.
I looked after a patient who required recurrent ascitic drains and I became increasingly aware of the physical, psychological, and emotional impact of this process. Following NICE approval of long term drains, I was keen to set up a service to prevent patients going through this awful experience repeatedly, described by one patient as a "recurrent gauntlet." The opportunity to undertake a quality improvement project seemed ideal, so a core medical trainee colleague and I developed a proposal. The project was supported by a coordinator who linked us to an appropriate supervisor, explained the quality improvement framework and project structure, and communicated regularly with us to deliver ongoing support. We had regular meetings with all the departments involved, gained insight from patients, liaised with the drain company representative, and developed a pathway and education strategy.
This project taught me the importance of teamwork, implementation of small yet tangible changes, and frequent evaluation, implementing the learning points from my original project. I also learnt the utility of a structured framework to unify the intentions of a project, the importance of the management team, and that the education of the people involved in the delivery of the project is key.
I have since taken on more of a mentorship role, which has allowed me to pass on some of the things I learnt from my previous projects. As an ST3 I mentored a group of junior doctors, one of whom was keen to pursue a quality improvement project. This resulted in the introduction of a syringe driver prescription sticker that remains active in the hospital to this day without either of us needing to sustain the project going forward.
Factors that made this project a success were
The use of SMART criteria

Identification of a well defined area of need

A simple implementation

Delivery of an education package with a single clear message

Identification of logistical challenges and answering them prospectively.
This progression from doer to mentor required new skills. It was important to guide my junior trainee but not to instruct. I needed to share the learning I had gained and explain the quality improvement framework, but let my colleague deliver things in their own way.
The benefits of quality improvement for me have been extensive and varied, enabling me to improve patients' experience and support the professional development of my colleagues. For a project to be successful it requires several key stakeholders to be engaged over a period of time. This can sometimes lead to challenges that take a while to sort out and a degree of perseverance is certainly needed at points in a project. However, the benefits are numerous and the challenges well worth overcoming to see the positive impact quality improvement projects can have on colleagues and patients alike.
My top tips for starting off are
Top tips for those supporting trainees:
Make sure the project is sufficiently narrow to deliver in the time frame possible

Have regular contact with your trainee

Ensure regular evaluation to assess impact

Support trainees to implement sustainable pathways that do not require their ongoing input.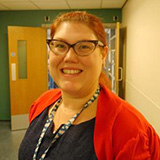 Anna Olsson-Brown is a medical oncology registrar in the North West currently working as a clinical research fellow at the University of Liverpool and Clatterbridge Cancer Centre. She is also the Chair of the Trainees and members committee at the Royal College of Physicians of Edinburgh.
Competing interests: None to declare.
Twitter: @AOlssonBrown