Focus must be on the promotion of a just culture so that healthcare professionals can truly learn from their mistakes and are encouraged to admit them
The independent review of medical manslaughter and culpable homicide, commissioned by the General Medical Council (GMC) in the wake of the fall-out from their handling of the case of Hadiza Bawa-Garba, has issued an interim update. The GMC successfully appealed the medical practitioners tribunal decision to suspend Bawa-Garba for 12 months. As a result, she was erased from the medical register, but this was rightly overturned in the Appeal Court after a crowdfunding campaign and the appointment of a new legal team. Many in the medical profession (especially trainees) breathed a sigh of relief at this decision, which seemed so very sensible, given the clear multifactorial nature of the errors which contributed to the death of Jack Adcock in February 2011. We should all accept that mistakes can happen as a result of doctors working in pressurised conditions. The aims of the independent review are also to ensure that there is a balance afforded between patient's families, healthcare systems, and individual doctors, and also that doctors who raise concerns are supported appropriately.
Its final report is due to be published in spring 2019, and important evidence is still being gathered. The panel have placed a substantial priority on hearing from as many different groups and individuals as possible. Emphasis has also been placed on how a "just culture" can truly develop in healthcare. All of us must be able to openly admit our errors, in order for vital learning to take place. None of us wish to perpetuate a system which says "as long as everyone tries hard enough it will be completely safe." Leslie Hamilton, chair of the review, rightly to points out that other high-risk industries all assume that staff will make errors and they plan accordingly. Healthcare should be no different.
The main focus of the review panel has been on examining evidence on the process which follows the unexpected death of a patient. Normally, the NHS Trust will instigate an internal review. A coroner's inquest may follow (or in Scotland a referral to the Procurator Fiscal). There may then be a police referral either before, or as a result of, this inquiry if criminality is suspected. Rarely, a criminal trial may result if the Crown Prosecution Service (UK), or the Crown Office and Procurator Fiscal Service in Scotland, deem that it is in the public interest and there is a realistic prospect of conviction. It's actually quite difficult for both the police and the CPS to decide if the actions of a particular healthcare practitioner are criminal or not. In English law only the jury can decide. Robert Francis drew attention to this significant point as it appeared to form part of what he saw as the legal flaws of Gross Negligence Manslaughter in a recent appearance at the Health Select Committee. 
The GMC is likely to have been alerted before then and will be conducting its own investigation. The review is also looking at the impact of the recommendations of the Williams review. The GMC are yet to lose the right to appeal  MPTS decisions, but this is in hand. The delay is simply due to current parliamentary priorities. The GMC can still appeal, but there is more oversight to the process than there was: the decision will now be taken by a panel of three rather than the chief executive alone, as in the case of Bawa-Garba.
Criminalising healthcare does not make patients safer. Equally, bereaved families must be given a complete explanation of what has gone wrong if they have lost loved ones due to medical error, of whatever origin. The Bawa-Garba case has meant that fear stalks many ward rounds and handovers in the UK as well as the routine filling in of e-portfolios when there has been an unexpected death. Reflection has been another unwanted casualty of this painful process as these were used during the trial of Bawa-Garba, albeit indirectly. 
Questions such as what the limits of "just culture" should be considered by the independent review. Deliberate neglect and wilful harm by healthcare practitioners should certainly mean that they are held accountable by the law. The focus must be on the promotion of a just culture so that healthcare professionals can truly learn from their mistakes and are encouraged to admit them. The system should be held responsible if it has placed a doctor under pressure and harm has come to patients as a result.
It is very likely that the quality of local investigations—who does them and how they are analysed—will emerge as an area of a number of final recommendations from the panel. The Serious Untoward Incident Report (SUI) undertaken by University Hospital Leicester NHS Trust in the Jack Adcock case recommended 83 actions after his death. There were 17 contributory factors, yet only two individuals were prosecuted. The SUI stated that staffing levels were "acceptable" when we know that Bawa-Garba had to cover at least one absent colleague. No mention was made of whether a senior review should have taken place proactively in a child with a pH of 7.08 and an abnormally high lactate. Instead, a trainee was held responsible for the lack of consultant review. The concerns from many across the profession, unsurprisingly, are that local SUI processes seem not to be independent and that there is pressure to divert criticism away from an organisation onto individuals. Much of the remaining inquiries relate to what is understood by the phrase "public confidence in the profession." The duty to uphold this is one of the statutory aims of the GMC and it is hoped that independent research may help answer this. The review by Roger Kline, commissioned by the GMC, examining why there are excess referral rates of BME practitioners to the GMC, and why higher rates of BME practitioners face investigation by the GMC will also be important. The British Medical Association and the British Association of Physicians of Indian Origin have also taken an important lead in this area. 
As a profession we have started to come together in unified action for culture change over the past year. "Learn Not Blame" has recently been spurred on by a parliamentary launch lead by The Doctor's Association UK (DAUK). This must be the future for both patients and healthcare workers alike. As a profession we must remain accountable, yet our patients must be kept safe by preserving an ability to openly learn from mistakes. Society, and its leaders, must take this on as a matter of the highest priority regardless of other competing demands. I would encourage everyone to read the final report when it is published. In the meantime I echo the call from Leslie Hamilton that we should all get involved in responding to a consultation on a new "national patient safety strategy" with a document that calls for a "just culture with openness and transparency" which NHS Improvement has launched.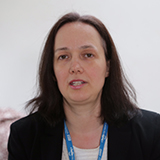 Jenny Vaughan is a consultant neurologist. @DrJennyVaughan
Competing interests: JV was the medical lead of the successful appeal against conviction of David Sellu and is law and policy lead at The Doctor' Association UK and a member of the BMA MLC. She is the co-founder of www.medicalmanslaughter.co.uk.