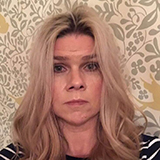 Anyone who's had training on pregnancy loss will be familiar with the figures that 1 in 4 pregnancies end in miscarriage, and that every day in the UK 15 babies die before, during, or soon after birth. In low-income countries those figures are far higher, and for stillbirth are frequently preventable. 
However, knowing the numbers is not quite the same as being faced with someone going through a loss. While healthcare workers may be prepared to treat a physical loss, responding to emotional reactions may be far more complex. Helping someone who has lost a baby is never going to be an easy health-related encounter. Much, however, can be done to minimise any further distress and ensure that those going through loss feel supported and respected.
By my third miscarriage I knew what to expect, and decided to try and make something positive from an otherwise painful and miserable situation.  I used every available opportunity to ask all the healthcare workers that I met endless questions from what training and support they had, to what advice they had for me following my loss (not much, as it turns out).  
That was eight years ago and since then care has steadily been improving thanks to initiatives such as the National Bereavement Care Pathway (NBCP). Having compassionate and flexible support for everyone is vital. That particularly includes care tailored to those who are disabled, people from lower socioeconomic groups, people from ethnic minorities, same sex couples, partners of those who have had a loss, and very young parents.
Concerns that healthcare staff shared with me back then are still topical now. They echo countless conversations I've had with practitioners since. Yes, they had training in physical care, but less on the emotional issues and how to tackle trauma, grief, and bereavement. There was little time to keep up to date on the latest evidence, and while training would have been welcomed, accessing that within a busy work schedule was also complicated. Aftercare to allow them to process the stresses of their job was also inadequate.
As a consequence parents leave hospital with empty arms and breaking hearts.  A book, website, phone number, or details of an app or support group is in no way a replacement for a loss—but may ensure they don't go home unsupported and alone.  
It is easier to recommend assistance than ever before. Initiatives like Baby Loss Awareness Week (9-15 October 2018); a growth in baby loss charities and books; individuals using Instagram, blogs or Facebook to share their stories of loss; or opportunities to remember babies with volunteers offering to take baby photographs or provide memory boxes; all make for a more creative, inclusive, and empowered space. For healthcare workers it can be time consuming to find out about these resources, and fitting this into a busy schedule can be impossible. While some hospitals have processes in place to share sources of additional help and support within their organisation or to external charities—many do not.
Pregnancy loss is rarely easy, but poor care can make what is a sad experience that most of us can cope with in one way or another, into a deeper crisis. For me, the losses I experienced were physically painful and very, very sad. But it was the disjointed healthcare and lack of compassionate communication that left me feeling that my losses were unimportant, that I had failed, and crucially that I had no right to call myself a bereaved parent. Therefore, I didn't grieve—and latterly my pregnancies that did go to term and subsequent births were way more traumatic than they needed to be.
I appreciate, however, that care is difficult, stressful, and overstretched. Conversations I've had since my losses with healthcare workers and medical students have left me appreciating that we have more in common. All of us struggle to access information, to make sense of what is going on, to process emotions, and to find answers. All of us need support.
Petra Boynton is a social psychologist working in International Healthcare and an agony aunt. She specialises in using the media to share health information and empower patients and practitioners. Twitter @drpetra
Conflict of Interest: I have researched the topic of pregnancy loss focusing on the needs of partners (funded by a UCL Beacon Bursary run for the Miscarriage Association). I have written a self-help book Coping With Pregnancy Loss (Routledge, 2018) for people navigating their losses. I have had three miscarriages.