The National Institute for Health Research (NIHR) is highlighting seven research legends whose work has shaped the NHS, as part of its celebrations for the NHS's 70th birthday and the NIHR's I Am Research campaign. This entry looks at Magdi Yacoub who took heart transplantation and later heart-lung transplantation in the UK by storm.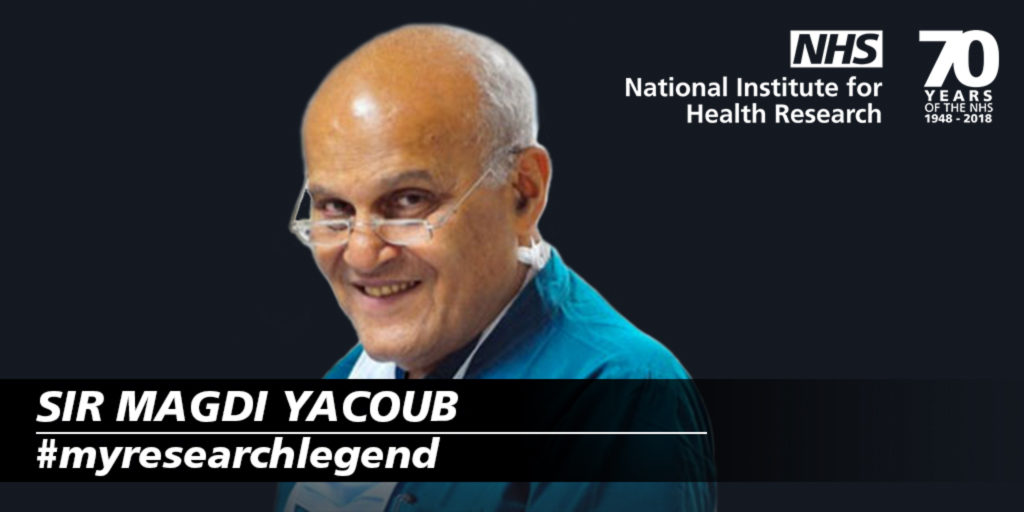 The UK's first heart transplant operation was performed before I was born, 50 years ago last month in May 1968. The recipient survived just 45 days. After a number of further unsuccessful attempts in both the UK and around the world, heart transplantation was abandoned and felt to have been a failed experiment.
Eleven years later, as a 10 year old, I remember picking up on the excitement, but also concern, on the national television news as heart transplantation restarted in the UK. The development of a new drug to better control the immune system led to new hope that the lifesaving option of heart transplantation could become a realistic treatment for people dying from advanced heart failure.
The story of progress in heart transplantation and, subsequently, heart-lung transplantation was something that intrigued me as I grew up and, without a doubt, fired my desire to want to become a doctor from an early age.
A personal inspiration
There was one individual that stuck in my memory from this time: Sir Magdi Yacoub at Harefield Hospital in London. He took heart transplantation and later heart-lung transplantation in the UK by storm. His calm and charismatic demeanor in front of a camera seemed at odds with the bold and pioneering work he did to save the lives of many patients through thoracic organ transplantation in the 1980s and 90s.
Sir Magdi Yacoub was born in Egypt and moved to Britain to train in cardiothoracic surgery and become a consultant surgeon at Harefield Hospital in 1973.
Even before his interest in transplantation, he was an innovator in his field, pioneering the modern arterial switch operation used to help children born with incorrect plumbing (transposition) of their major heart blood vessels.
However, what propelled Sir Magdi into the public eye was when in 1980 he established what was to become one of the largest and most successful heart transplant units in the world. The Harefield Hospital transplant unit was world renowned. For many years, it was the busiest heart and lung transplant programme in the world. Professor Yacoub was knighted for his services to medicine in 1991.
Championing translational research
Despite receiving such personal accolades, Sir Magdi pushed on to extend his impact well beyond his skills as a world leading cardiothoracic surgeon. He was a passionate champion of translational research, insisting the junior surgeons he was training spent time in the laboratory where they could both inspire and be inspired by the scientists. His research aimed to improve understanding of many of the heart and lung diseases he was treating.
The Heart Science Centre established by Sir Magdi at Harefield Hospital conducts work in heart repair through exploring tissue engineering and stem cell biology (myocardial regeneration), seeking potential alternative treatments to transplantation for end stage heart failure. The centre is also at the frontier of research in transplant immunology, nanotechnology, and use of microparticles in drug delivery in heart and lung diseases.
His research has encouraged many scientists and clinicians to work in the area of advanced heart and lung disease over the years. Indeed, the same pioneering approaches to translational research he started many years ago continue to inspire contemporary research, such as the work going on currently in the NIHR Blood and Transplant Research Unit in Organ Donation and Transplantation I lead at Newcastle University and the University of Cambridge.

A legacy beyond clinical practice
When he retired from NHS practice in 2001 at the age of 65, after almost 30 years as a consultant, Sir Magdi was the world's most prolific heart and lung transplant surgeon. Although his NHS clinical work has stopped, his passion and drive for making a difference has not slowed down at all.
Sir Magdi founded Chain of Hope, a charity that provides lifesaving cardiac surgery to children around the world with correctable heart defects who do not have access to specialist cardiac surgery in their own country. In addition, his research continues and he still publishes regularly as a primary or senior author well into his ninth decade.
As we celebrate 70 years of the National Health Service, it's an opportunity for us to recognise the incredible contribution made by key pioneers and leaders whose legacy remains evident today. Sir Magdi Yacoub is a true icon of the NHS and to me personally was an inspirational figure at a decisive moment in my life.
Note: Andrew Fisher's article was originally published on the NIHR website.
Andrew Fisher is a professor of respiratory transplant medicine at Newcastle University and deputy director of the NIHR Blood and Transplant Research Unit in Organ Donation and Transplantation. He is a consultant transplant physician at Newcastle Upon Tyne Hospitals and the immediate past president of the International Society for Heart and Lung Transplantation.
Competing interests: I have read and understood BMJ policy on declaration of interests and declare the following interests: None. 
The views and opinions expressed in this article are those of the author and do not necessarily reflect those of the NIHR, NHS, or the Department of Health and Social Care.