Nicholas J DeVito and Ben Goldacre
Background
The US FDA Amendments Act (FDAAA 2007) requires certain clinical trials to report their results on ClinicalTrials.gov within one year of completion. Our FDAAA TrialsTracker shows all individual trials that breach this legal requirement. Once a week, we write about one unreported clinical trial: you can read more background here.
Trial NCT02133326
This week's unreported study is: "Assessment of Preemptive Analgesic Effect of Caldolor® vs. Ofirmev® on Third Molar Surgery: A Prospective, Randomized, Double-blinded Clinical Trial" (NCT02133326). The participants were 67 adults, each having at least two teeth removed. Participants were randomised to receive either intravenous ibuprofen, or intravenous paracetamol ("acetaminophen"), prior to surgery. The primary outcome was postoperative pain, as measured on a visual analogue scale during the week after surgery. The secondary outcome was the amount of pain medication consumed. The trial was double blinded, and began in March 2014. The completion date given is January 2017, and the trial's registry record was last updated by the researchers in January 2017.
Discussion
This is an important trial whose results would be valuable for clinicians and patients. The condition is common: impacted wisdom teeth are seen throughout the world, and surgical removal is very common, with 10 million operations per year in the US. No one likes to be in pain, and knowing the relative merits of one drug over another in preventing postoperative pain for common procedures can have a huge impact on quality of life. This study is particularly relevant given the growing opioid crisis: dentists are proportionally the largest prescribers of opioid medication in the US. The secondary outcome of the trial assessed reduction in use of postoperative analgesics.
Conclusion
This unreported trial was sponsored by Tufts University School of Dental Medicine in Massachusetts, where it was also conducted. The primary investigator is Dr Archana Viswanath. We hope that the investigators will share the results of this trial soon.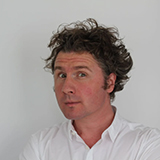 Ben Goldacre is a doctor, author, and director of the EBM DataLab at the University of Oxford. He co-founded the AllTrials campaign for trials transparency.
Competing interests: BG has received research funding from the Laura and John Arnold Foundation, the Wellcome Trust, the Oxford Biomedical Research Centre, the NHS National Institute for Health Research School of Primary Care Research, the Health Foundation, and the World Health Organization; he also receives personal income from speaking and writing for lay audiences on the misuse of science. ND is employed on BG's LJAF grant.