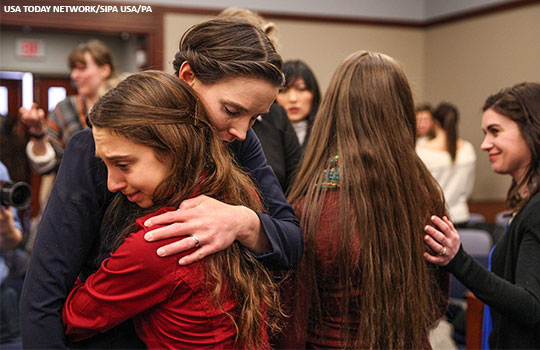 Victims were silenced, intimidated, repeatedly told it was medical treatment and even forced to go back for continued sexual assault . . . and so as Larry was abusing me each time, I assured myself it must be fine because I thought I could trust the adults around me. My misplaced trust in my physician . . . cost me dearly. And it follows me everywhere.
Rachel Denhollander, US gymnast
Larry Nassar, the former US gymnastics team doctor who sexually abused hundreds of young athletes under his care, was sentenced on 24 January 2018 to 40-125 years in prison in Eaton County. This is in addition to a sentence of 40-175 years in Ingham County, Michigan, US for first degree criminal sexual conduct. He was also sentenced to a further 60 years by a federal court for possessing images of child pornography.
During the sentencing hearing, 156 women who call themselves the "army of survivors" delivered powerful and emotional victim impact statements. In the course of his professional career, Nassar sexually abused approximately 256 female athletes from 1998-2015, stating that his "medical treatments" would cure physical injuries. What is most disturbing about this case is that Nassar is an osteopathic sport medicine physician—one of our colleagues.
The Larry Nassar tragedy underscores the importance of ensuring that all physicians acquire clinical competencies in the prevention, recognition, and clinical management of victims of sexual abuse. It is incumbent upon all of us in medicine to examine the details of the Nassar case to learn how to improve our practice to protect patients in our care from sexual abuse.
Sexual abuse occurs when there is an abuse of a power relationship between the perpetrator and the victim, within a culture that tolerates, denies, ignores, or accepts abuse as the norm. In sport, a culture at risk for abuse is one where athletes are denied a voice or power, and where there is high perpetrator motivation, low athlete protection (safeguarding policies and procedures), and high athlete vulnerability.
How can physicians play a part in preventing sexual abuse? We can influence cultural change by raising awareness of the risks of abuse through education, advocating for the rights of those without a voice, and proactively ensuring that all the organisations we serve have policies that explicitly define the rights of all to a safe and inclusive environment.
There should also be institutional procedures on the reporting and management of allegations of abuse, along with codes of conduct to guide the ethical behaviour of everyone involved. These codes of conduct should be included in educational initiatives with all stakeholders. The International Olympic Committee has developed a toolkit to assist sport organisations on the development and implementation of athlete safeguarding against abuse in sport. As physicians, our clinical relationships with patients are also governed by national regulatory licensing bodies and international codes of medical ethics.
One of the core clinical competencies of a physician should be the ability to recognise the signs and symptoms of sexual abuse. As victims are often silenced by their abuse, they may be reluctant and frightened to disclose. As a result, physicians should be vigilant for the physical, psychological, social, and performance indicators of sexual abuse.
Hallmark physical signs may be direct outcomes of sexual abuse, including genital or anal trauma, unwanted pregnancy, or sexually transmitted infections. Less obvious physical signs are somatisation (recurrent and multiple physical symptoms with no discernible organic cause), self-abuse, or frequent injury from high risk behaviours. Psychological outcomes of abuse, which are often extensive and long lasting, include eating disorders, anxiety, depression, substance abuse, self-harm, and suicidal ideation and attempts. Be alert to these symptoms and ask about a history of abuse. Social relationships, work, and sport performance may also be negatively affected. Physicians must maintain a high index of suspicion and verify victim safety if at risk.
Clinical competencies in the management of victim disclosures and the treatment of sexual abuse should also be a core component of physician training.
By having the clinical competencies to prevent, recognise, and clinically manage sexual abuse, physicians can be an integral part of change to ensure that the trauma experienced by the 256 victims of Larry Nassar will never happen again. May we act in legacy of their suffering.
Larry sexually assaulted me repeatedly under the guise of medical treatment for nearly a year . . . He engaged in degrading and humiliating sex acts without my consent or permission . . .  And as I and so many other women and little girls were being violated, Larry found sexual satisfaction in our suffering.
Rachel Denhollander, US gymnast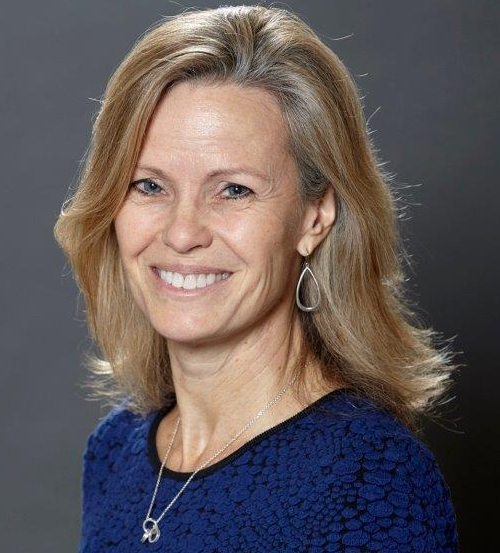 Margo Mountjoy is an associate clinical professor in sport and exercise medicine in Canada at McMaster University. She works in international sport for the International Olympic Committee, WADA, and FINA and is an advocate for the prevention of harassment and abuse in sport. Twitter: @margomountjoy
Competing interests: None declared.