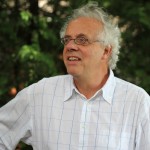 There have been big changes in science publishing in the 25 years since the appearance of the internet, but at the same time science publishing is still dominated by journals, a 17th century invention. The tipping point when true transformation begins has long been predicted and may now be close. Why do I say this?
The single most powerful force in science publishing ought to be scientists but is probably Elsevier, which publishes over 2500 journals. It has consistently achieved profit margins of over 30% on its science publishing, a much higher margin than most businesses achieve. It achieves such margins because it is like an oil company that is given oil for free. The oil of Elsevier is research studies.
Scientists and librarians have long resented the way that they see Elsevier and other commercial publishers exploit science, but boycotts, mass resignations from editorial boards, the appearance of open access publishers like PLoS (Public Library of Science), and other attempts to undermine the power of Elsevier have been unsuccessful. The share price of RELX plc, the parent company of Elsevier, has risen steadily over the past five years. Indeed, the open access movement, which aims to make all research free and reusable, has improved the profits of journal publishers by allowing them to "double dip," charging both authors for their studies to be open access and libraries to subscribe to their journals.
But the leaders of Elsevier have now decided that the epoch of journals will soon be over. They are not buying or starting journals. They now describe the company as a "global information analytics business that helps institutions and professionals progress science, advance healthcare, and improve performance." They are a "big data company." Instead of buying journals they now buy software that scientists will need. They have, for example, bought Mendeley, "a free reference manager and an academic social network."
The company recognises that science publishing will become a service that scientists will largely run themselves. In a sense, it always has been with scientists producing the science, editing the journals, peer reviewing the studies, and then reading the journals. But innovations like F1000Research and Wellcome Open Research have shown how the services can be provided much more cheaply—in part by dispensing with editors who make (often arbitrary and wrong) decisions on what's important and what is not. Elsevier have recognised the importance of this trend and are creating their own software platforms to speed up and make cheaper the process of publishing science.
But how, I wondered, can Elsevier continue to make such big profits from science publishing? Now, I think I see. The company thinks that there will be one company supplying publishing services to scientists—just as there is one Amazon, one Google, and one Facebook; and Elsevier aims to be that company. But how can it make big profits from providing a cheap service?
The answer lies in big data. As the Economist says, "the world's most valuable resource is no longer oil, but data." Elsevier will come to know more about the world's scientists—their needs, demands, aspirations, weaknesses, and buying patterns—than any other organisation. The profits will come from those data and that knowledge. The users of Facebook are both the customers and the product, and scientists will be both the customers and the product of Elsevier.
Richard Smith was the editor of The BMJ until 2004.
Competing interests: RS has been a zealot for open access publishing since the 90s and has for the past 15 years believed that science journals will be replaced. He was on the board of PLoS for seven years and has served as a paid consultant to F1000Research. He has a pension from the BMA, the owners of the BMJ.