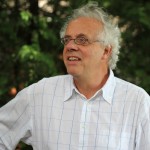 The Dutch, an outward looking people, have long had a unique programme for training what were called "tropical doctors" and are now called "global health doctors." The two years and three months of clinical and theoretical training aims to prepare doctors to work as generalists in challenging environments worldwide providing clinical care and strengthening health systems. The programme is facing financial problems, and the leaders would like €6 million from the Ministry of Health. To show the need for more funding, but also to celebrate and share the inspiring stories of the doctors, Matthijs Botman, himself a global health doctor and a plastic surgeon, led a campaign team that has put together a book of the stories. Into the World, which is available in Dutch and English, and was launched at a meeting in Amsterdam recently.

Alieu Mansaray, community health officer, Sierra Leone
Alieu Mansaray from Sierra Leone told the meeting how as a 21-year-old he was left in sole charge of four children after his stepmother died in childbirth. The experience left him with the dream of being able to prevent the deaths of women in childbirth. Sierra Leone has one of the highest maternal mortality rates in the world.
After the civil war he took a step towards his dream, leaving his rural home to train as a State Enrolled Community Nurse. Sierra Leone has only about 150 doctors for seven million people, and most of the doctors are in the capital. Mansaray returned to work in his home town of Yiffin, which is near Bintumani, the highest mountain in West Africa. He was able to help women in childbirth and to do simple surgical procedures, but he had to refer many patients. Travelling was, however, often difficult and impossible in the rainy system. One day his porter developed what Mansaray diagnosed as abdominal obstruction. He tried to get an ambulance to transport the patient, but it took five days to get the ambulance—and his porter died.
Mansaray prayed for God to give him the chance to train as a surgeon, and God answered his prayers when he was given a place to train at Masanga in a programme organised by CapaCare, a Norwegian non-governmental organisation and the Sierra Leone government. There he was trained by Dutch global health doctors among others; "working together day and night," he says, "is the best way to learn."
After this training Mansaray went to work in Sebaru in Southern Sierra Leone, and there he saw Adama, a mother of four, who came to the hospital with severe abdominal pain. Mansaray diagnosed a ruptured uterus, which a scan confirmed. Although scared, he knew he had to operate. He had to ligate the blood vessels and remove the uterus, a risky and difficult operation. But he succeeded, and a week later Adama was able to go home to care for her children.
Mansaray's story, which is included in the book, reminded the meeting of the great need in low income countries.
Albertine Baauw, a paediatrician with a public health heart
After training as a tropical doctor in Amsterdam and Arnhem, Albertine Baauw worked in Mozambique, Sri Lanka, Malawi, and Cambodia. In Sri Lanka she worked in a war zone, but her longest deployment was in Malawi, where she worked in a hospital when the HIV epidemic was at its peak. But she also worked in the villages and found she enjoyed working "not top down from the hospital but much more from the population….I found the combination of my work as a doctor at the hospital and building prevention and health programmes in the villages fantastic." This combination of clinical work and public health occurs in many of the stories, and is, said Barend Gerretsen, head of the Training Institute Global Health and Tropical Medicine, a hallmark of the training to be a global health doctor.
Asked why she wanted to go and work in challenging and sometimes unsafe circumstances, Baauw answered idealism, and "the adventure also attracted me, if I'm very honest, but besides that I have a strong urge to 'stand up for the rights of others.' " This combination of wanting to make a difference, idealism, adventure, and standing up for the disadvantaged is common among the global health doctors.
Baauw has learnt much in her work about how "the power is within the people themselves." She worked with mothers in Cambodia and says: "What struck with me the most is: their enthusiasm, the will to learn, the drive to improve the situation for their children. That inspires me enormously." She learnt too about the importance of the community and not so much the individual, another common feature of the work of the global health doctors.
Most of the global health doctors return to work in the Netherlands, and many find that returning can be harder than leaving. Baauw enjoyed the experience of becoming a specialist, but sometimes found the differences in the health systems very painful. "I especially found this in neonatology: extremely small children kept alive with a lot of high tech, while in low-resource settings so much can be gained with relatively simple means."
Global health doctors usually have to deal with every aspect of healthcare, not only the clinical work, but also drug supply, finances, and relations to government, and community leaders. Baauw says: "In Malawi, the hospital had to hold up its own pants. We had to raise funding and I spent nights on bookkeeping. I knew exactly what the cost of something was and what the patients then generated. Here [in the Netherlands] it took quite a while before I understood the expenses of my operations and then payment. And still, I find it very unclear."
Baauw, who now works extensively with refugee children, concludes that she is "a paediatrician with a public health heart."
Marianne Reimert: mutual learning in the jungle
After her training Marianne Reimert went to work in the Republic of the Congo, where although working in a hospital she became very interested in improving the health of the Bakaya pygmies. (She and I had a conversation about whether it is acceptable to use the word pygmies. We concluded that it probably isn't but people don't understand if you don't use the word. From now on I'll use the word Bakaya.)
The Bakaya live in the forest with their own customs, religion, and language. They, says Reimert, "have knowledge of all kind of diseases. They use products from the forest for their healing arts and they sometimes work fine. But there are also diseases that can't be treated with those." Sometimes they would come to the hospital where Reimert worked, but they usually came too late and were too unfamiliar with the ways of the hospital to use it effectively.
Reimert realised that the health system needed to reach out to them, while respecting their beliefs and way of life. She worked with two anthropologists, one of whom taught the Bakaya to use Western medicines. The programme of teaching stopped with the civil war, but after the war Reimert, her husband, who had taught in the village, and the anthropologists restarted the programme, calling it Bwanga, which means medicine in the Bakaya language.
They worked with the traditional healers, who, Reimert says, "realised that their healing arts weren't sufficient for certain diseases and were very open to new methods and new medication." As the Bakaya don't read or write, Reimert and others had to work with pictures and even song and dance. Reimert has started a foundation that distributes medicines to the traditional healers, who can sell them.
She emphasised to me after the meeting how important it is to respect the knowledge of the healers. For example, the healers can tell, she believes, whether a fever is malaria just as accurately as laboratory testing.
Reimert now works as a GP in the north of the Netherlands and hopes to take over her father's practice, but she returns regularly to the Congo.
David Koetsier: the necessity to look outside the consultation room
David Koetsier trained as a tropical doctor in Zoetermeer and then worked in Kaoma in Zambia. His father was a church minister and worked in many developing countries. "Development work, healthcare…I was brought up with the knowledge that the world stretches beyond the Netherlands." Training as a tropical doctor was a logical choice.
Working in Zambia shaped him as a doctor. "The broad range of medical work," he says, "working with all your senses, hands and feet, and also the unpredictability. Every day is different. That requires a lot of improvisation." He learnt not to be a "bossy doctor" and to look behind problems to their causes. Like other tropical doctors he understood the importance of community.
When he returned to the Netherlands he became a GP in North Amsterdam, one of the poorest parts of the city. "It's as colourful as it can be," says Koetsier. Following his experience as a tropical doctor he believes that GPs should be part of the community. "There are," he says, "GPs who say 'I'm not here for what happens outside my consultation room.' My approach is: how do I connect with the neighbourhood, the town, with the bigger picture, and how do I act on that, in order for me to help my patients further in a different way."
Believing in community and teams, Koetsier works in his practice with pharmacists, social workers, physiotherapists, and providers of mental healthcare. Recognising that "many questions asked by patients are about loneliness or a meaningful fulfilment of life" and that "you can help with direct practical support" he and others have created a volunteer centre in the hall of the health centre. He has also helped create a neighbourhood vegetable garden.
Koetsier is also an activist, campaigning on fast food outlets surrounding the health centre and that people could smoke on ferries operating to and from the Northern part of Amsterdam. He strives to connect his consultation room with the world around it.
The book and the campaign
The book contains 12 stories of global health doctors, all told in interviews to Marlies Hummelen, a skilful interviewer. There are more short stories on the website and one of the aims of the campaign is to let the Dutch public know what important work is being done with their support. Popular clamour will make it more likely that the government will make available the relatively small financial support that is needed.
I have taught on the global health doctors course for some six years, although I've now stopped, and I spoke at the meeting and have contributed to the book. I felt humbled as I have never worked as a doctor in a low income country, although I have visited many low income countries and have a deep involvement with Bangladesh.
Immediately before arriving at the meeting I had been reading Clare Gerada's blog in The BMJ on medicine becoming a miserable profession. It was a great contrast to walk into the meeting in Amsterdam and sense the enthusiasm, joy, and energy among the mostly young doctors.
I argued at the meeting that training as a global health doctor and working in a low income country helps doctors develop lots of competencies. Here are some that I see. There will be others.
Understanding and appreciation of the big picture

Realisation of how privileged we are in Europe

Prioritisation

Flexibility

Adaptability

Leadership

A "can do" attitude

An appreciation of better/more sustainable health systems and models of care

How to help the many not just the few

Recognition of the importance of community

An appreciation of the privilege of caring

Knowledge on the power of the poor and the wisdom of local people
I then argued that a Ministry of Health in any high income country can achieve a quadruple win by investing in a global health doctor programme like this Dutch example.
One: Millennials want meaning and purpose in their work and put that ahead of salary and status. Working in a low income country provides young doctors with both—more arguably than working as a cog in a huge and poorly understood hospital machine.

Two: There are undoubtedly benefits to people, patients, and health systems in low income countries.

Three: The Dutch health system benefits from the skills, knowledge, attitudes, and competencies gained by global health doctors working in low income countries.

Four: Global health doctors develop a resilience that will allow them to work to 70 without burning out.
The stories in the book and on the website provide compelling evidence of these four wins, but the programme is interested to gather research evidence on the benefits to the Dutch health system.
I might have added a fifth win that might appeal to the government—that the Dutch global health doctor programme is unique and something for the Netherlands to celebrate with pride. It's a gift from them to the poor world and to themselves.
Into the World is available in Dutch and English and can be bought through the website.
Richard Smith was the editor of The BMJ until 2004.
Competing interest: RS taught on the global doctors programme twice a year for some six years and was paid for his teaching. He also had his expenses paid to travel to the teaching sessions. He contributed to the book but was not paid. He had his expenses paid to attend the meeting but got stuck for two extra days because of the snow. Whether British Airways will pay for the extra accommodation and his train ticket home is a matter of continuing discussion.