The BMJ has chosen Orbis for this year's Christmas charity appeal. Orbis has been working in Vietnam since 1996, and over the past 20 years has helped to establish five paediatric ophthalmology centres and rural paediatric eye health services; helped develop Vietnam's first national eye bank; and funded the first wet lab in Vietnam, in Hanoi, where ophthalmologists can practise surgical procedures.
The World Health Organization recommends one paediatric ophthalmology centre per 10 million citizens so, with a population of 90 million, there is still much to be done. Training eye teams is vital to producing long term change. Orbis volunteers share their skills with ophthalmologists, anaesthetists, nurses, and biomedical engineers to help build robust services that can help more people, treat more conditions, and tackle the 80% of blindness that is avoidable or treatable.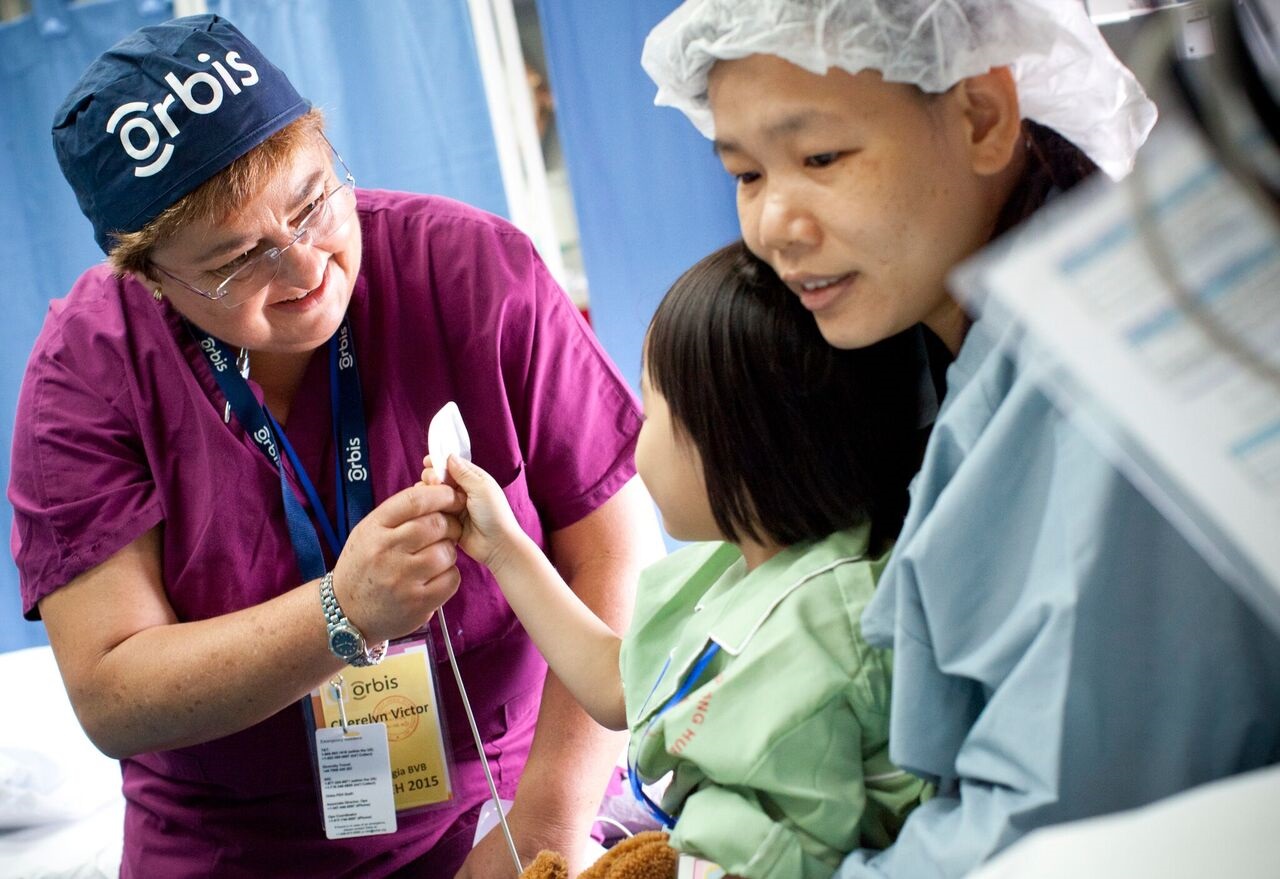 Below one of these volunteers, Ian Fleming, shares his experience of the struggles and successes of teaching anaesthetic techniques in Hue, Vietnam.
I never understood why colleagues said "anaesthesia is stressful." Then I started teaching. Watching someone else do something, whether it is a regional block or laryngoscopy, and stopping yourself from interfering or taking over is difficult. Now try teaching a foreign trainee through an interpreter, with 15 people watching you, and it all being filmed.
I'm in the Central Hospital in Hue, Vietnam, on an Orbis Flying Eye Hospital programme, teaching local anaesthetist Le Viet Hòa the finer points of subtenons anaesthesia. Thank God for air conditioning: it's 35C and 90% humidity outside. I'm still sweating slightly.
He's watched the lecture, seen the demo, and practised several times on sheep's eyes in the wet lab we ran (yes, we've moved on from "see one, do one, teach one"). I'm not sure which of us is more nervous.
We've got the patient's consent and prepared her eye with topical proparacaine (why do all drugs have to have four different names?) and betadine. Dr Hòa picks up the forceps and scissors. This is always a difficult moment for us needle and syringe loving anaesthetists—subtenons is a bit "surgical."
My usual joke about "don't worry about buying the equipment, just steal them off the surgeon" backfires slightly—half of those watching us turn out to be local surgeons. I worry he is going to be too tentative. He is. A small prompt, through the interpreter, reminds him to take a decent bite with the forceps.
His hands are shaking slightly, but he steadies himself. He makes a small incision and passes the subtenons cannula perfectly. He injects slowly, just as I taught him. Now the hard part, waiting to see if it has worked. Now he looks really nervous.
Two minutes pass and we check the block. Through the interpreter we ask the patient to try and open her eyes and to look left and right. She cannot. Total akinesia and no chemosis. A perfect block. The look on his face says it all and reminds me why I come out and teach on Orbis programmes.
We walk the patient through to the operating room or "OR" (got to get used to American jargon) and the operation goes smoothly. It takes a while, nearly two hours. However, the patient is comfortable throughout and the surgeon compliments Dr Hòa on an excellent block. Five successful cases later, we pack up.
Everything takes longer on an Orbis programme because they are teaching programmes. Everyone is doubled up. I'm teaching and so are the surgeon and the nurses. Somewhere else in the hospital, Orbis biomedical engineers are teaching their local counterparts how to repair and maintain the equipment. They are all equally important members of the Orbis "family," without whom it just wouldn't work.
The fact that Orbis recognises this in its aim to eradicate preventable blindness worldwide—understanding that you need to support every part of the ophthalmic pathway—is why I am still here, 10 years on, volunteering with them.
Ian Fleming, a consultant anaesthetist at King's College Hospital, has been an Orbis volunteer since 2005. Over the past 11 years he has trained fellow anaesthetists in countries including Syria, Cambodia, Bangladesh, Nepal, China, and Vietnam, both on board the Orbis Flying Eye Hospital and within local hospitals.
Donate to Orbis
£239 could provide surgical training opportunities on board the flying eye hospital for two local doctors

£150 could buy six intraocular lenses for cataract surgery

£84 could cover the cost of corrective eye glasses to improve the vision of eight children
Donate online: www.orbis.org/bmj/give

Donate by phone: +44 (0)20 7608 7260

Donate by cheque: Orbis, Freepost RTLK-HLXZ-LKHU, 124-128 City Road, London EC1V 2NJ (no stamp necessary but using one saves sight)