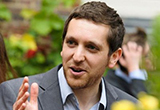 Jeremy Hunt caught a few people off guard at this week's NHS Providers conference when he unexpectedly announced a flurry of new policies.
Those who have heard the health secretary give dozens of speeches over the past four years had their usual game of "Jeremy Hunt bingo" (key watchwords: patient safety, technology, Virginia Mason [The award winning Seattle hospital that Hunt loves to name check]) interrupted by a spate of new announcements geared towards addressing the low motivation and morale among NHS staff and enhancing leadership and flexible working opportunities. 
Eye catching plans to encourage more clinicians into senior management positions and address low morale among junior doctors by piloting a modern version of the old "firm" structure in hospitals were well received.
But Hunt employed a very different kind of "firm" when responding to criticism of the chancellor's decision to ignore the pleadings for extra cash for NHS and social care in his recent autumn statement.
Alongside his bevy of new announcements, Hunt took a moment to censure NHS Providers' own chief executive Chris Hopson for having the temerity to warn that NHS trusts could not deliver everything that is being asked of them with the current funding provided.
Hunt, brazenly admonishing Hopson at his own party through the medium of Charles Dickens, told the audience of senior NHS managers that it was "a misjudgement" for the NHS to adopt a tone of "please Sir, can I have some more," after health had received a bigger funding boost from the treasury than every other government department last year.
Hospital bosses, traditionally more reserved than clinician audiences, maintained poker faces as Hunt delivered his telling off.
But privately, Hopson's argument that the NHS cannot continue to meet stiff performance targets and maintain standards of care with inexorably rising demand and restricted funding will have resonated strongly with those present.
And whilst the overall noise of the conference was one of sleeves being rolled up, NHS leaders may also have wondered whether Hunt's plans to bolster morale and enhance leadership can truly succeed while the service remains under such huge and sustained pressure.
Gareth Iacobucci is senior reporter, The BMJ.