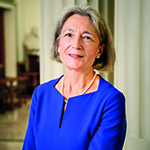 The NHS is treating record numbers of patients with better outcomes, but it is now facing some of the biggest challenges in its history.
Against this backdrop, Sustainability and Transformation Plans (STPs) will be unveiled over the next few weeks.  These are being designed by local NHS and social care leaders, working together across 44 patches of England, to find ways of transforming care and making their local NHS more sustainable within the current budget.
There's been much criticism of STPs amid concerns that some have lacked public and clinical engagement.
Ipsos MORI and the BMA regularly survey the public about their trust of professional groups and doctors regularly come top, with around 90% of the public trusting them to tell the truth. By contrast, only around 40% trust NHS managers. While some STP areas, such as Devon and Cumbria, have already started consulting with clinicians and the public on their plans, others still need to do more. The public are unlikely to be persuaded by plans to change the way their NHS services are delivered without clinical leaders' backing.
Despite the criticisms, the reality is that STPs are currently the only game in town looking at how the NHS can be made sustainable. There is a need to radically alter the way care is provided across the country. Without STPs, we will be left with purely arbitrary decisions taken by individual commissioning groups about what to cut in the NHS. The process may have been imperfect but we should not throw the baby out with the bathwater. There is a need for better engagement and so we must give STPs a chance.
They provide a long overdue opportunity to look radically at how and where surgical and medical care is provided. The patients and the types of conditions treated have changed as rapidly as the medicine that treats them. Surgery, for example, is often now much less invasive than it used to be. Whereas some operations, like gallstone removal, used to involve big incisions with recovery times of up to months, modern endoscopic surgery enables people to be home within 24 to 48 hours, in many cases recovering within a week.
Patients also benefit now from surgeons who specialise in complex surgery. For certain procedures and conditions, such as heart surgery, stroke, and certain types of cancer, concentrating specialist surgical services into fewer, larger centres of excellence can improve outcomes with simultaneous improvements in training and education for surgeons.
STPs present a golden opportunity to establish a hub and spoke network for more complex surgery and some areas are looking at rationalising their emergency surgical services. Some of these plans will be hugely controversial, but where STPs propose evidence-based changes to surgery that are in the interests of our patients, the Royal College of Surgeons will support such moves. That's why we have championed centralising children's heart surgery, and in north Wales, we are backing the much needed centralisation of vascular surgery.
The plans also present an opportunity to respond to rapidly changing patient demographics. Today most patients in hospital are old and frail, often suffering from multiple illnesses or conditions which require as much social support as medical support. The interactions between hospitals, primary, community, and social care are extremely important. Yet many of these different organisations don't, and currently can't, sufficiently share information or communicate with each other, leaving patients and their carers feeling confused about who is responsible for their care.
The frailty of older patients, and the lack of suitable alternative community based services, can mean they require extended periods of care in hospital. This is creating a pressure on NHS bed capacity which is running well above experts' recommended 85%. For many surgeons, the biggest concern with STPs is that they will seek to further cut bed numbers in hospitals. This is why we must support them to put in place sufficient alternative services to avoid causing further problems with capacity, cancelled operations, and waiting times.
To succeed these changes are going to need cash, particularly at a time when NHS capital budgets have been repeatedly squeezed. Without money STPs will be purely about saving money—all sustainability and no transformation—making them even harder to sell. The Royal College of Surgeons would like to see a targeted NHS fund to enable more care to be provided out of hospital and closer to home for patients.
Whether or not we think STPs are a good idea, as doctors we owe it to our patients—particularly the most frail, to take every opportunity to look seriously at how we can sustainably change the way we provide care in our country. We must challenge the bad and champion the good. Let's give STPs a chance.
Clare Marx is President of the Royal College of Surgeons.
Competing interests: None declared.