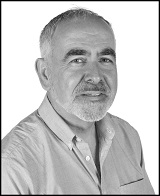 A live telecast of The Marriage of Figaro to a baseball stadium from the Kennedy Centre provided a delightful and illuminating synergy with the 2016 conference of the National Centre for Creative Ageing in Washington DC.
After attending the conference's opening reception at an exhibition of art by older people, we had a short walk to this marvellous cultural mash-up. As dusk descended, a large and diverse crowd filled the bleachers or sat on rugs in the ballpark, carrying trays of French fries and beer.
The informality was augmented by a technical hitch just after the overture, when the curtain failed to rise, raising a roar of laughter from the crowd. Sound and vision were perfect, the production simple but effective, the singing excellent, and the subtitles unobtrusive but helpful.
As I engaged with the conference over the next two days, I realised that the performance embodied two important messages—one of which ran counter to much of the impulse of the speakers and delegates.
The first was that high art does not need to be inaccessible to a broad population: by rethinking context and setting, it can be a magical and transformative experience. This was echoed at the conference by a strong theme of rethinking art gallery and museum experience to engage with older people and those with dementia, as pioneered by the Meet Me programme of the Museum of Modern Art in New York.
The second was the importance of recognising that, for most of us, the majority of our engagement with arts, culture, and leisure is receptive rather than participatory. However, much of the impulse of the arts and health movement arises from creative practitioners in the participatory arts.
Just as healthcare often comes under fire for being provider driven rather than patient centred, so too many of the programmes discussed at the conference were largely participatory and reflective of the enthusiasms of those providing them. If your only tool is choreography, then the solution to every problem looks like improvisatory dance, so to speak.
It is clearly good that those disposed, or potentially disposed, to knitting, dancing, painting, and theatre should have access to it, no matter how late in life. However, if aesthetic supports are important to self-actualisation at all stages of life, then we need to support this in ways that reflect the normative patterns—predominantly receptive—for those compromised by health or circumstances from accessing their usual aesthetic supports.
One very amusing speaker, a community artist from Canada, caught this nicely in his initial horror as a creative at his wife engaging in the new craze of colouring books for adults. His journey of appreciating that there are many different routes to aesthetic fulfilment was one which deserved wider adoption by delegates.
The participative also figured largely in the conference style, with dance, singing, and mindfulness featuring in an enthusiastic manner that differentiated European and American modes of social expression—neatly caught in a recent book.
For those engaged in arts and health, the conference was a useful "how to" to set up arts programmes with older people, but it was light on both gerontology and research. Indeed, one slight concern was a reaching out for "science" to support arts and cultural supports, rather than emphasising the values of aesthetic enrichment in its own right.
An awareness of the literature warning of undermining the value of the arts by shoehorning the enterprise into pharmacological or neuroimaging straightjackets would have been helpful. Examples include the self-explanatory "Shall I compare thee to a dose of donepezil?" and Ray Tallis's entertaining demolition of the pretensions of "neuroaesthetics."
An added personal bonus of the conference was to meet in person with the authors of two of my "go to" resources on dementia for lay people and professionals: Forget Memory (Anne Basting) and How We Age (Marc Agronin).
My week was bookended with another dose of Mozart made accessible: a riveting revision of Don Giovanni by Roddy Doyle, setting the action in the rougher edges of Dublin gangland—Lorenzo Da Ponte meets the Commitments. A wild success and the hottest ticket in town, it emphasised yet again that inspired creativity and curatorship can open up the arts to new audiences—food for thought for those engaged with arts and health.
Desmond O'Neill is a geriatrician and an educator on the TCD Massive Open Online Course on ageing.