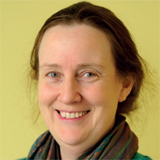 What inspires me? People who think differently, public spaces that are beautiful, art in unexpected moments. So when an enormous blue painting of a sleeping baby appeared on an outside wall by the cafe of the Homerton University Hospital NHS Foundation Trust in 2015, I took notice. This video tells the story. The work was specially created for the hospital by Stik, a local artist. The iconic image of a sleeping baby, painted in Stik's usual style of block colour and thick-black lines, has since been adopted by NHS workers across the country. According to Stik "It represents the vulnerability of the NHS and the feeling of fondness we have for it. The NHS is our baby and we have to protect it," Stik also donated a limited edition of 100 prints of The Sleeping Baby, which were sold out in a couple of hours after people queued round the corner overnight—this raised 50,000 GBP for the Trust's charity, Homerton Hope and the original prints have just raised a further 38,000 GBP at auction.
Walking around the Homerton—my local NHS Trust—there is art in every corner, so much art that some days I hardly notice, until I look up in an odd moment, and there it is. Sculptures in the garden, large acrylic paintings based on Olympic athletes in a back stairwell that might otherwise be gloomy, a pen and ink portrait in outpatients. I worked in the Homerton for a year in 2014-15 and would watch the comings and goings of the vast collection amassed by Shaun Caton, art curator and resident artist at the Trust (pinch me—what an inspiration to have someone like this in the NHS). Tim Melville-Ross, the Chair of the Trust Board convenes an Art Steering Group, which helps guide what is probably one of the biggest art collections of any NHS Trust.
Every office, corridor and ward has something, often delicately chosen to suit the theme and mood of the room. Everyone has their favourite, and this is a talking point for both those who work there and those we serve. There are quarterly exhibitions and small launch parties to celebrate them. Art is part of the living fabric of the Homerton and sometimes the discussions get technical. We managed to save the Trust some thousands of pounds a year by changing the cleaning products used on the frames which were causing the wood dye to run, damaging them, and staining the walls, which then needed repainting—this involved infection control, estates, and facilities, myself and my colleague Shaun Caton.
What creates art? The artist, of course, but also those who buy it, look at it, connect it to their lives and to place. There is no better setting for art than somewhere it can bring solace, inspiration, and meaning, and that is why the Homerton, with very little fuss and noise, and based on the magnanimous donations of the many artists who appreciate and love their local NHS, has amassed a stunning, working collection of art which is now truly embedded in a public space. They are not the only ones—start looking and you will find art all over the health service. We have a wonderful charity in the UK called Paintings in Hospitals who are worthy of your support. Even knowing they exist cheers me up.
Art is the great healer. Art can sooth the weary soul, bring comfort to the sick and lonely, and lift the spirit. Stik created the sleeping baby mural at the Homerton for free because he cares, and because he understands that the NHS as a common good needs support from all of us to strengthen its spine.
This is why Stik is my NHS hero.
Mary E Black is Head of Digital Strategy at Public Health England. She is on Twitter @DrMaryBlack. 
Competing interests: I have no relevant interests to declare.