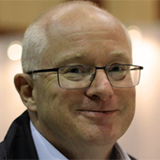 Recently I attended the launch of a King's Fund paper in the rarefied setting of Portcullis House, an annex of the Palace of Westminster. The subject was "Bringing together physical and mental health: A new frontier for integrated care." A panel that included Presidents of the Royal Colleges of Physicians and Psychiatrists, was chaired by a member of the House of Lords. The diagnosis was an important and topical one: care for people with long term physical conditions is insufficiently holistic and frequently omits psychological effects.  The mirror image is also true, perhaps with even more serious consequences: people with long term mental illness suffer and die as a consequence of inadequate physical care. So, unmet need in both scenarios and a stimulating basis on which to construct my Evidence Live 2016 presentation on the subject of "Translating Evidence into Better Quality Health Services."
What is the appropriate response? In passing, I can't help but notice that until very recently, it would have been inconceivable that such a meeting would not include at its centre, the crucial role of general practice or primary care. Yet, on this occasion, neither rated more than a passing reference, and the Royal College of General Practitioners was conspicuously absent. That seemed a problem – both for the NHS and for primary care itself. What about evidence? It would not be true to say that evidence was completely absent, but it was not central to the discussion that followed the presentations, and it ranked a long way behind "an increase in resourcing" in terms of its visibility as a potential solution.
Yet evidence, for all its faults, limitations and uncertainties does provide the nearest we can get to realism. It should therefore be front and centre when it comes to identifying effective and resource-efficient solutions.  At one point in the proceedings, a member of the audience noted that one solution to the problem of the "depressed type two diabetic patient" would be to have rapid access to a psychiatrist. I have my doubts about that, but surely whether or not this is a valid and feasible response should depend on an impartial and rigorous evaluation of the evidence base, and an assessment of whether this also matches the preferences of patients? As seems to happen all too often, we appear to be unduly influenced by well meant hunches, or perhaps even more dangerously, hope backed up with a sense of "what harm could it do?" (to which the answer should always be "almost certainly more than you imagine, and in any case it will use resources you can't use again").
At the Evidence Live 2016 conference this week we will doubtless hear a lot about the limitations of evidence, and quite right too. Every year brings more illumination in relation to the effects of bias, commercial sponsorship, small studies, poor research conduct and reporting, and the impact of research waste. All of this is important and valuable. But we also need to consider what this means for decision makers at the coalface, whether at a systems level or those sitting knee to knee in the consultation room. Rational and shared decision making only prosper when the best current evidence is incorporated into the decision process. And the reverse is also true, as The Lancet's excellent manifesto states: "Improving lives is the only end goal that matters, and research is only relevant when it has impact on human lives.."
Evidence should be at the heart of health service decision making and where it is not, we should not be surprised when mistakes are made and resources used sub-optimally. This means that alongside continuing research that seeks to identify and evaluate sources of bias, we need to continue to advocate for the use of best current evidence in decision making. This will mean better engagement between researchers and policy makers, making evidence more visible, timely, and relevant to the intended audience, and also ensuring that scientists improve their ability to communicate the results of their research accurately and without spin. Work undertaken by researchers and organisations such as the Harding Center for Risk Literacy has made it abundantly clear that there is considerable room for improvement across the scientific literature. There are simple rules that could be followed consistently but they are not.
Health service decision makers need to have timely access to the best current evidence, clearly and fairly described, in ways that they can understand and assimilate into practice and policy. This is particularly important where the effects are uncertain.
David Tovey has been the Editor in Chief of The Cochrane Library since January 2009. He currently leads the Cochrane Editorial Unit (CEU), based in London. The focus of the CEU is to ensure the quality and relevance of Cochrane Reviews and to support initiatives aimed at increasing their impact on decision makers. He worked previously as Editorial Director for the BMJ Evidence Centre. He continues to act as the series editor for the BMJ Uncertainties series.
Tovey worked as a General Practitioner in an urban practice in South London for 15 years until 2003 and is a Fellow of the UK Royal College of General Practitioners. During his time in practice he also undertook roles in continuing professional development for primary care professionals.
Competing interests: I am a full time employee of Cochrane. I have no other relevant conflicts of interest.