I met two remarkable women this week. Actually, I met many such females at the vast Women Deliver conference in Copenhagen—obstetricians, lawyers, midwives, and former presidents (including a possible future one when Hillary Clinton made a live appearance on the big screen).
In a cast of thousands, activists Filzah Sumartono, from Singapore, and Mariya Taher, from India, made an impact with their plain speaking about female genital cutting (FGC). Sumartono confronted the growing problem of medicalisation of FGC. Indonesia and Malaysia have called for a standardisation of the procedure, essentially legitimising the practice.
Sumartono works for Aware, Singapore's largest gender equality advocacy group, and told how half a dozen clinics carry out the procedure on mainly Malay babies and young girls for as little as $15-25 a time. "Medical professionals are allowing cultural considerations to override their medical concerns," she said. "Often it's the grandmother or mother in law who decides if the baby gets cut—they just don't see a problem with it. In Singapore 'type 1' cutting occurs, involving the removal of the clitoral hood or the clitoris itself, which is seen as not as radical as elsewhere."
Taher is a co-founder of Sahiyo, which campaigns to end FGC (so called "khatna") among the Dawoodi Bohra in India and Pakistan, and a writer for Brown Girl, the US online magazine for South Asian women. Taher was cut when she was 7 years old, taken back to India from her home in the US for the procedure. "So many women didn't know what had happened to them. I didn't realise until high school."
She is involved in the successful "I am Bohra" campaign, where people in her largely wealthy and educated community post pictures holding placards (see photos below). One father speaks out on his daughter's behalf, his placard reading: "I am Bohra and a father. I will never let this happen to my daughters, I promise." Another reads: "I am Bohra and I am against khatna because women make decisions with their brains, not their private parts."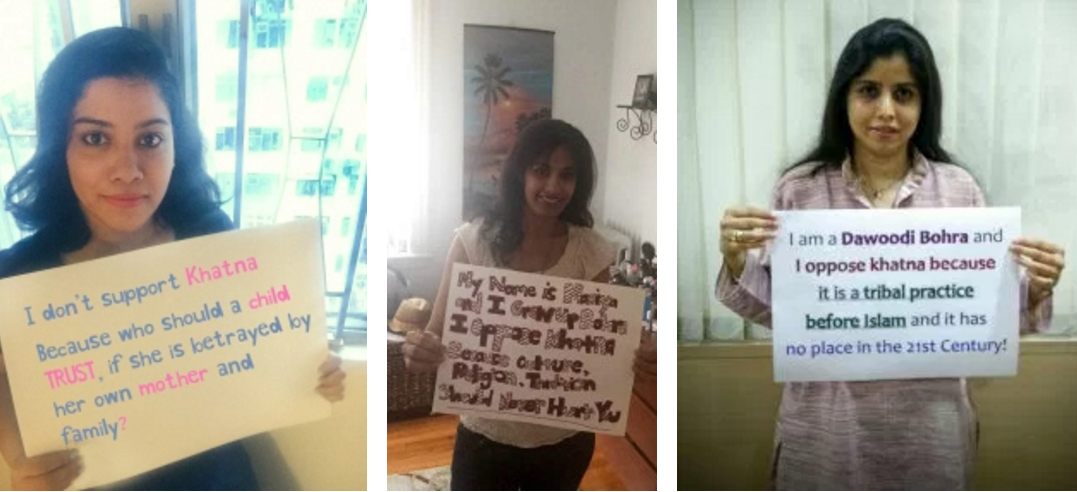 Because FGC is such an under-researched issue Taher and Sumartono have both attempted to gather data with various online surveys of their communities.
There was a remarkable man too (in case you were wondering). Kelechukwu "Lucky" Nwachukwu is a youth activist in Nigeria, where the prevalence of FGC is sky high at 27%. Part of The Girl Generation, with a goal to end FGC in this generation, he works with groups of boys to start conversations about the practice. "There is a law against it but alone that doesn't help—there have been no prosecutions," he says. "In Nigeria men lead decisions. Men should say this shouldn't happen to my daughter. What can we do to make sure they are held accountable? We need to engage men and boys."
The FGC session was organised by London based Orchid Project.
Rebecca Coombes, head of investigations and features, The BMJ. Twitter: @rebeccacoombes