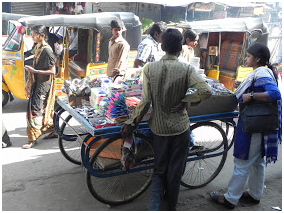 Severe heat wave conditions have been reported across India through the month of April this year. The situation has been especially severe in Telangana, Andhra Pradesh, and Tamilnadu. Most affected are the vulnerable poor, the elderly, and those with health complications.
We spoke to some people to see how they cope with the heat:
"We have to work to earn our living. Drink water and keep moving. We can't stop."
"I take care to sit in the shade and sell bananas. I drink water, buttermilk, and lime juice."
"I park the rickshaw in the shade between trips and sleep off the afternoons."
Acclimatization to extreme heat seems to be both through cultural practices of avoiding exposure and physiological adaptation.
Most self-employed persons and wage labourers can afford neither minimal safety measures nor avoid the sun because daily income is crucial to survival.
More experienced workers keep a culturally honed watch on their body's discomfort, discontinuing work, drinking water, resting, or stopping when the signs are dangerous. The less experienced don't.
One young woman we interviewed had suffered heat exhaustion three days prior to our chat. She suffered what she called a "Yenda debba" (literally sun stroke), "was taken to the hospital, given a glucose drip, and sent back." She started working the day after, when she felt a little better.
Life for the poor goes on.
North Indians are more adapted to summer heat than their southern brethren. They cover their face, neck and upper thorax while going out, offer guests large glasses of drinking water first, and consume summer specific drinks like "aam ras" or mango panna, lassi, and salt with onions.
Heat wave mortality in Telangana and Andhra Pradesh in 2015 was unprecedented.
A public health approach is warranted as 1677 people died due to heat in 1995. The National Crimes Records Bureau of India heat death figures show a peak of 1677 in 1995 dipping to 393 in 1997 and rising to 1274 in 2010. Reports record high, yet broadly unchanging mortality due to heat strokes between 2010 and 2014.
According to national statistics, while children and the elderly are vulnerable, the young and middle aged succumb because of an unforgiving daily labour regime. In terms of gender, approximately five times as many men as women are recorded as dying due to heat stroke.
However, current informal reports from the CMC Vellore suggest that those getting admitted for heat strokes are the elderly, the physiologically compromised, and alcoholics.
Faced with these conditions, we worry about heat related mortality in other countries. The WHO predicts that "between 2030 and 2050, climate change is expected to cause approximately 250 000 additional deaths per year, from malnutrition, malaria, diarrhoea, and heat stress." What global policies are being pursued to tackle this emergent situation?
With global warming, policies to handle heat related morbidity and mortality are essential:
We need action plans to educate, prevent, alert, and cater to the needs of those in danger of heat stroke.
Medical research on the network of causation, the pathological pathways and methods of cure for clinical use.
Increased sociological and epidemiological research to provide accurate knowledge regarding heat related morbidity, practices, and needs.
Provision for heat wave allowances to the poor to ensure that they don't have to risk their lives for a livelihood in summer.
Provision of adequate compensation to families who lose wage earners to heat while contributing to economic growth.
We are grateful to Mithun Som for the statistical summary from ADSI reports and the interviews on the streets.
Yogesh Jain is a paediatrician and one of the founders of JSS Hospital in Ganiyari, Chhattisgarh.
Antony Kollannur is a former Director State Health Resource Centre, Chhattisgarh and Health & Nutrition Specialist, UNICEF.
R Srivatsan is senior fellow, Development and Health at Anveshi Research Centre for Women's Studies, Hyderabad.
All three authors are members of Medico Friend Circle, India.
Competing interests: None declared.