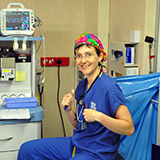 Millions of people face financial ruin to afford surgery. Five billion to be precise, that's how many people in the world currently have to weigh up the dilemma of financial ruin to afford surgery.
After regularly volunteering for a couple of weeks every year, in 2012 I decided to give up my full time job in the UK as an anaesthetist to volunteer full time on the Africa Mercy. It is the world's largest civilian hospital ship and is run by international charity Mercy Ships. It offers free medical care to some of the poorest countries in Africa. Since the charity's creation in 1978, Mercy Ships has transformed the lives of more than 2.54 million people across the world.
As well as being an anaesthetist, my role on the ship is to focus on developing the local healthcare systems in each of the countries we visit, helping to improve training and education. We work closely with a number of partner organisations and one of our biggest projects is teaching local doctors and nurses the World Health Organisation (WHO) Surgical Safety Checklist so operating rooms have the correct skills required for safer surgery.
The WHO checklist system was developed to prevent errors and adverse events during routine surgery. It is such a straightforward way to make surgeries significantly safer and gives local healthcare workers the power to change lives and transform national health services. So far, it has been proven to reduce deaths by a staggering 47%. The checklist project is a small yet highly effective way to encourage and support healthcare professionals in the developing world working in challenging conditions.
The ship is currently docked in the island nation of Madagascar, and during this outreach we will visit 22 regions across the country, spending around three days in each hospital. We can find ourselves in quite remote areas of Madagascar where often health professionals haven't had much ongoing support and training in the area of surgery and anaesthesia.
Developing these local healthcare systems and training local doctors and nurses is a major part of what we do. By developing the training side, Mercy Ships aims to inject hope into situations that often seem hopeless as well as making surgery safer. Such training programmes improve and strengthen the surgical "eco-system" within a much bigger national health plan.
With millions facing ruin from the cost of vital surgery, it's not difficult to understand how inextricably linked to global poverty the lack of affordable healthcare is. Safe surgery saves people's lives and gives them not just healing but offers hope and ability to work again. Making surgery safer in the developing world isn't just a health issue, it's an economic one as well. Safe and affordable surgery is one of the most vital ways in which we can support developing nations and improve global public health. The work of Mercy Ships leaves a lasting legacy and a sustainable healthcare system that will benefit communities for years to come.
Michelle White is the medical capacity building director and deputy chief medical officer on board the world's largest civilian floating hospital, the Africa Mercy. Michelle has volunteered full-time on the ship since 2012.
Competing interests: None declared.