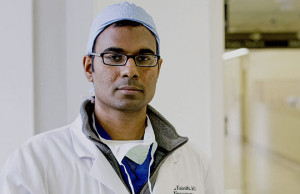 When Dr Paul Kalanithi (pictured) was 36, and with most of his neurosurgical training complete, his life was finally beginning to take the form he had anticipated. Just as pieces of the puzzle were shifting toward an idealistic future, classic symptoms of malignancy emerged. Scans confirmed the severity of the situation: he had stage IV lung cancer.
"Even if you are perfect, the world isn't. The secret is to know that the deck is stacked, that you will lose."
Practising neurosurgery gradually became increasingly arduous until he could no longer maintain the physical capabilities required for behemoth operations involving the brain and spine. When Breath Becomes Air details Dr Kalanithi's difficulty in deciding whether to continue practising medicine or shift his focus to writing. He maintained the former as long as physically possible before relinquishing his obvious skill, both as a surgeon and empathic guide for patients. The result of this shift is this beautifully written book. Through the book's numerous literary and philosophical references, Kalanithi's lifelong obsession with the medium—resulting in a MA in English Literature from Stanford and MPhil in the History and Philosophy of Medicine from Cambridge—is evident throughout.
"While all doctors treat diseases, neurosurgeons work in the crucible of identity: every operation on the brain is, by necessity, a manipulation of the substance of our selves."
This is not yet another book rattling off a list of semi-interesting cases the author has operated on during their illustrious career. Yes, the act of brain surgery—the drilling and clipping, cutting and sucking—is described with a level of detail only a skilled surgeon and writer could achieve. And yes, the first section describes Dr Kalanithi's journey from school through to undergraduate studies, medical school, and residency. However, what could merely have been autobiographical prose is elevated by Kalanithi's philosophical inquires.
When Breath Becomes Air sets itself apart thanks to a steadfast contemplation of death. Dr Kalanithi wrote, "Years ago, it had occurred to me that Darwin and Nietzsche agreed on one thing: the defining characteristic of the organism is striving." His own striving to confront mortality is obvious—thanks to his ability to juxtapose experiences as a doctor and patient. Dr Kalanithi's wife Lucy, an internal medicine doctor, writes the epilogue with a similarly unflinching gaze, depicting the last few days of Kalanithi's life poignantly.
If life is about searching for a state of tranquillity, as Epicurus wrote in 270BC, then the birth of his daughter, Cady, is the perfect antithesis to Dr Kalanithi's diagnosis. The overlap of father and daughter, for however brief a moment, allows us to bear witness to spectacular feelings of warmth combined with heart-tugging pragmatism.
When Breath Becomes Air may not describe a triumphant survival story—an escape from the brink of death thanks to the marvels of medicine. Instead its message is far more important. In moments when facing one's own mortality or that of a loved one, here is an example of fortitude, but also understandable vulnerability. This ceaseless striving to document such a personal story is unsentimental yet (perhaps because of that very quality) inspiring. I am convinced that readers will mourn the man but benefit from the life he led. "And that is an enormous thing."
Salil Patel is a medical student at the Peninsula College of Medicine and Dentistry and spinal surgery research fellow at the Royal Devon and Exeter Hospital. He is passionate about improving access to surgical care worldwide, and serves as coordinator of the UK Medsin Global Surgery National Working Group.
Competing interests: I have read and understood BMJ policy on declaration of interests and declare the following interests: None.