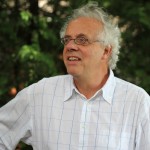 As I write this, the strongest hurricane ever detected in the Western Hemisphere is approaching the coast of Mexico, where my son lives. It may have nothing to do with climate change (or disruption, as I prefer to call it), but it probably does. Recently we heard that the permafrost is thawing faster than ever and may soon release huge amounts of methane, accelerating climate disruption. Yet most of us, including health researchers, carry on as if nothing is happening. How might health research contribute to averting disaster? I'm part of a group discussing this, and I'm taken by the attractiveness of a simple idea that could have important results.
The idea is contained in the National Institute for Health Research (NIHR) Carbon Reduction Guidelines, which were published in 2010. The NHS, which is about 10% of the economy and the UK's biggest employer, is responsible for a quarter of all greenhouse gas emissions by the public sector. It has to reduce its carbon consumption by 80% by 2050, which will be achieved only if the NHS looks very different by then. Research will clearly have an important role.
The guidelines have many ideas on how to reduce the carbon consumption of research, but the simple idea that appealed to the group that I'm part of is: "Where appropriate, consider assessing the environmental impact of proposed interventions or changes in service provision within research studies." This sentence is very tentative—"where appropriate, consider"—but it's clearly time to stop being tentative: we are moving rapidly to a world where carbon is more important than money in that excess carbon will destroy us in a way that lack of money will not.
So the command we need is that "Funding will be available ONLY for the studies that assess the environmental impact of proposed interventions or changes in service provision within research studies." Environmental impact will become as important as patient outcomes and cost effectiveness. And we might also require that "All applications for funding MUST show how they will reduce carbon consumed in doing the study to the minimum possible." This would mean no plane trips, conferences, and publication on paper as well as much more.
All of us like to entertain the fantasy that we are driven by pursuit of truth and benefit for all, but in reality we respond like laboratory rats to incentives, particularly money. Our children are fed with food that costs money not truth. So these small changes could have a big impact.
Researchers applying to the NIHR for funding now have to declare that they have read the Carbon Reduction Guidelines, presumably with the implication that they have tried their best to follow them. But it seems to be a "tick box exercise," meaning that researchers tick the box on the form and assessors make sure it's been ticked—but that's it. Nobody is actually thinking about reducing carbon consumption.
There can, however, be an evolution from ticking boxes to making things happen in reality, which seems to have been the case with patient involvement in research. Things evolve when NHS leaders begin to care about the issue. That doesn't seem to be happening yet with carbon reduction, but it's surely time that it should. By the time this blog is posted the hurricane in Mexico will probably have killed many (actually, as you'll now know, it didn't, illustrating well the difficulty of prediction). The thawing of the permafrost, which should be slowed if the NHS and the rest of the world can reduce carbon consumption, will take longer to kill—but not that much longer, and the scale will be much bigger.
Richard Smith was the editor of The BMJ until 2004. He is now chair of the board of trustees of icddr,b [formerly International Centre for Diarrhoeal Disease Research, Bangladesh], and chair of the board of Patients Know Best. He is also a trustee of C3 Collaborating for Health.
Competing interest: RS is an unpaid member of the Research and Implementation Advisory Group for a sustainable health and care system.