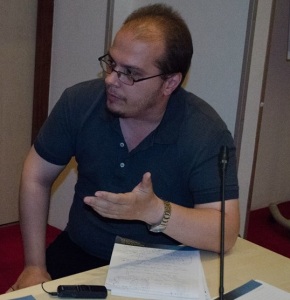 This year, those participants at the European Health Forum Gastein who were not too busy moving from one session to another, too eager to rub shoulders with top level speakers, or too absorbed in the beautiful landscape, could witness a new reality: refugees had arrived in Bad Hofgastein. There are 55 of them, 25 of which came during the current crisis—most from Syria, some from Afghanistan, Iraq, Libya, and Somalia, Mayor Friedrich Zettinig tells me. Although they can't work until their status is settled, he says they do receive medical care when needed, can take German language classes, and have appropriate shelter for the coming winter. As far as I could tell from seeing them briefly on the streets of the mountain resort, they seemed relaxed and well cared for.
These are the lucky ones. In the main hall of the forum, an official from the Maltese ministry of health told the plenary that a ship with 200 people had just capsized in the Mediterranean. Meinie Nicolai from Medecins Sans Frontieres (MSF) reminded us that at least 2,900 have died at sea this year, while a further 16,000 have been saved by the organization. Besides rescue operations, MSF has provided about 23,000 medical consultations to migrants in the Balkans, most of which were for injuries. The main problems for refugees arriving in Italy were scabies, respiratory and gastrointestinal disorders, and post traumatic stress.
Helmut Brand, the president of the forum, explained to me that the refugee crisis was on the agenda this year because of concerns about its impact on the European healthcare systems. The other big topic was the financially sustainable access to a growing number of new and costly medicines, such as those for hepatitis C or cancer; this says a lot about just how great fears raised by hundreds of thousands of people knocking on Europe's doors really are. Various speakers have tried to banish concerns: migrants do not bring with them diseases that aren't already in Europe; the so-called healthy migrant effect means that most of them will not need medical care in destination countries; moreover, a recent report has concluded that granting irregular migrants access to healthcare is more profitable than denying it in the long run.
As you would expect in a place so attached to European ideals, many have called for solidarity between all Member States in front of a crisis that has so far only affected those at the periphery. Eastern European governments opposed to the redeployment of 120,000 asylum seekers were put against the thousands of Europeans who have offered to shelter migrants and against countries like Jordan, Lebanon, and Turkey, where millions of people have fled conflict. Given the major demographic changes that will soon leave the European health sector alone with a shortage of one million workers, migrants were presented as an opportunity rather than a threat. And the European commissioner for health Andriukaitis argued rather philosophically that, depending on the point of reference, all Europeans are descended from migrants.
But current realities seem to contradict the mobilizing words spoken in conference rooms in Gastein. According to a recent Eurobarometer survey, immigration is seen by citizens as the main issue facing Europe, ahead of the economic situation and unemployment; moreover, 56% of Europeans have negative feelings towards migration from outside the bloc—we may all have been migrants at one point, but most of us don't seem to identify with those coming from a very different cultural space. Even in Austria, which was praised for its attitude towards migrants, a populist right-wing party has dramatically increased its share of the votes in recent elections, thanks to the refugee crisis. And the MSF representative showed that in spite of its values, it's actually Europe that is endangering the health of those so desperate to reach it, by closing its borders and denying them proper reception (which is regarded as a pull factor). People will soon die of cold in Central Europe, Nicolai warned.
It hasn't been long since the financial and economic crisis almost unraveled the Eurozone and caused a Grexit. Now it's the refugee situation, which was seen by some speakers at Gastein not as a temporary crisis, but as a key feature of the 21st century, that is putting the European Union again to the test; it has already suspended one of its biggest achievements, the Schengen area. But ironically, a solution to political disputes between Eastern and Western Member States might be reached thanks to other issues on the horizon: for instance, the other major topic at this year's Forum—access to expensive drugs. In the words of Professor Brand: if no common solutions for migrants can be agreed, how can poorer member states expect to call for such solutions to access products that they can't afford on their own? The refugee crisis might eventually be solved not by appealing to abstract, forgotten principles, but because of the spectre of even bigger threats.
Mihail Călin, MD, is a Romanian health and medical journalist.
Competing interests: I declare that I have read and understood BMJ policy on declaration of interests and I have no relevant interests to declare.
You can follow him on Twitter @MihCalin