• Organ donation—Currently in the UK, 33% of the population are registered donors, and at the end of March 2015 there were 6904 people on the waiting list for a suitable donor, with kidney transplants being the most commonly needed (5465, 79%). In our latest research article, Aubert et al study the long term outcomes of kidney transplantation across four centres in France using expanded criteria donors (ECD, donors ≥ 60 years, or ≥50 years with a history of vascular comorbidities). From their results, the authors conclude that avoiding high circulating levels of donor specific anti-HLA (human leucocyte antigen) antibody at baseline, and minimising cold ischaemia time would be most influential to help support wider use of ECD. Transplants using ECD currently have a higher failure rate than those of standard criteria donors.
• Jeremy Chapman writes the accompanying editorial and advocates that these findings should now be tested in other settings and patients, and importantly with donors who have had a circulatory arrest prior to donation as in this study donations were all following brain stem death.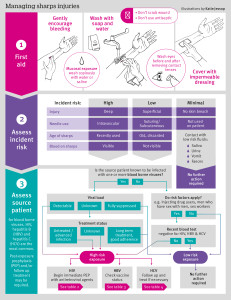 • Management of sharps injuries—Our lastest clinical review provides current evidence on the management of sharps injuries, with a lovely infographic giving an overview of the basic first aid following injury, how to assess risk from the sharps injury, and which management is indicated.
• Patient involvement—Neal W Dickert and Franklin G Miller discuss in their analysis article the challenges of consent in the emergency setting, illustrating the different possible strategies to aid patient involvement in consent for STEMI trials. And in our latest endgames case review, two GP authors explore the importance of respecting patient requests for "deprescribing."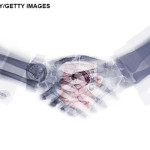 • Doctors should declare financial links—From June 2016 the Association of the British Pharmaceutical Industry (ABPI) will publish payments to individual healthcare professionals on a public searchable database, however, doctors will still be able to opt out of their data being included. The Academy of Medical Royal Colleges feels this disclosure should be made mandatory and the GMC already gives clear guidance on declaring competing interests. What is your view? Give your opinion in our poll: Should doctors be forced to disclose payments and hospitality from drug companies?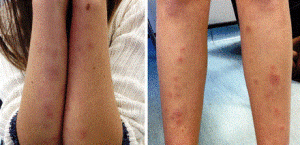 • Try our latest endgames Spot Diagnosis—Can you recognise this rash in an 11 year old girl?
Emma Parish, editorial registrar, The BMJ.