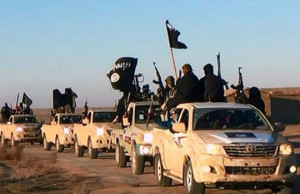 • Who is taking care of civilians and fighters' medical needs in parts of Iraq and Syria taken over by the Islamic state? Duncan Gardham reports that doctors have been forced to pledge allegiance or flee, aid workers have retreated, and the Islamic state is organising a workforce of medical jihadists from around the world. Hear from a British vascular surgeon who has been taking up to six weeks unpaid leave from the NHS to work in war zones, from Bosnia to Afghanistan, Iraq, Sierra Leone, Libya, Gaza, and Syria. He tells how the Islamic state is different, and why it may have become too dangerous to help.
• Sudanese medical college students and recent graduates, some of them UK citizens, joining the Islamic state in Syria has raised concerns about the influences students may come under while studying abroad, as well as the reliability of the international system for accrediting medical schools. Currently this relies on local governments, whose criteria vary but aren't always transparent to the international community. Are tighter checks in order, asks this feature.
• Three months of Saudi led bombings and a naval blockade have brought humanitarian catastrophe to Yemen. Most of the 26 million population lack safe drinking water, struggle for food, and only have electricity for several hours a week—if at all. At least 158 medical facilities have closed down, and many of those still operating might soon follow due to shortages in water, electricity, drugs, dialysis, and doctors.
• With 600 Syrian health workers killed and 145 tortured or executed during the ongoing war, many flee the country but then face new difficulties, including barriers that prevent them from work. Abbara et al write of the lost generation of Syrian doctors.
• Elsewhere, read a former immigration officer's views on restricting access to the NHS for undocumented migrants, and the BMA's position on doctors' involvement in checking immigration status.
Kristina Fišter is an associate editor for The BMJ.