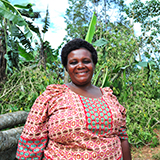 A new report from UN Women, Progress of the World's Women 2015-2016: Transforming Economies, Realizing Rights, calls for radical reforms to the global policy agenda thinking which will transform economies and make women's rights and equality a reality. Included is a series of case studies from all over the world which illustrate how governments, organizations, and individuals are working to transform the economic landscape for women.
Violet Shivutse, a 47 year old farmer and founder of Kenya's branch of the Home Based Care Alliance, describes how she applied the lessons of farming to grow an entire network of effective, organized caregivers.
As a female farmer in Kenya, I have seen that the fields are not always level between women and men. Often, men participate in decision making and agricultural programs, while women labor for a day's wage. From this experience, I have learned that if you want something, you have to go out and get it.
Often, healthcare is not a level playing field, either. For years I saw many women in my community die from preventable complications during childbirth. Over time, I convinced my local hospital to work with birth attendants and facilitate mobile childbirth clinics in our villages. Since many of the attendants were illiterate, I agreed to be their secretary.
This was the first step on my journey to form the Shibuye Community Health Workers. Since the group's inception, our work has expanded to include other health issues such as measles outbreaks, diarrhoea, sanitation, good nutrition, and family planning.
When people become ill, sometimes they need medicine or certain supplies. Sometimes they need a hospital stay or an operation. Other times they simply need bed rest. But there's one thing that's needed by everyone, everywhere: good care. In my home country of Kenya, where approximately 1.5 million people live with HIV, many are in need of a caring presence, who understands how the virus changes their entire lives.
In 1999, HIV and AIDS was declared a national disaster and a public health emergency in Kenya. Since the beginning of the crisis, our country's caregivers have served as a first line of defense—treating longterm patients directly in their communities and homes. Caregivers often filled the gaps where formal healthcare facilities were lacking.
Beyond that, caregivers maintained social ties for those affected by AIDS and HIV. They tended fields and defended the land rights for friends, relatives, and neighbours. Caregivers tackled complex social stigma and told the true story of how many came to be afflicted. As Kenya's AIDS pandemic spread, caregivers also found themselves increasingly in demand.
Yet, initially, caregivers efforts received little or no recognition for the critical role they played. Whenever government and other leaders came together to discuss policy around HIV, caregivers were excluded. After a while, I realized that this was because so many caregivers worked in small groups or even in isolation. We needed a platform to come together and define our goals.
In short: caregivers needed to organize. That's why I founded Kenya's branch of the Home-Based Care Alliance—an organization that brings together around 30,000 caregivers across 11 African countries. Our main goal is to raise a collective voice to lobby for recognition of caregivers as key players in healthcare.
As the Home-based Care Alliance grew, we knew that in order to improve people's health, we needed to address some ingrained misconceptions. Many people believed that health began at the health facility. So we came in to say: health begins right in your community.
As caregivers, we understand all of the subtle social dimensions of HIV/AIDS. Workers can't work; students can't learn; and parents can't tend to their children if they are sick. This is a comprehensive, holistic way of providing healthcare. The fact that our caregivers remain rooted in their communities is key to their success.
Today, our local chapter of the Home-Based Care Alliance has around 3,200 members. We've started talking to the authorities about how to refine policy around HIV and AIDS. One of our first meetings was with the Constituency AIDS Control Committee, part of the National AIDS Control Council. I think people are realizing the tremendous value that caregivers bring in these leadership roles. And caregivers feel a strong sense of responsibility, because they were not just handpicked to sit on a committee.
The story of Kenyan caregivers could serve as a parable for women's rights around the world. If you want to make a change—you have to come together. Organize, establish your priorities, and then fight for a seat at the table. If caregivers can do it, anyone can.
To view the full report: Progress of the World's Women 2015-2016: Transforming Economies, Realizing Rights, go to www.unwomen.or.