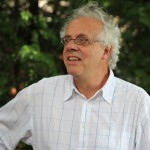 The NHS has to change radically if it is to survive. All those who study the NHS closely know that, but I'm not sure that all those who work in the NHS know it. And the necessity for radical change—as opposed to more money—features hardly at all in our depressingly shallow election. But how do you change radically such a monolith, something so loved that every criticism can feel hurtful, and a service soaked in ideology? The current answer is "from the bottom not the top."
The need for radical change
At last week's Cambridge Health Network meeting the case for change was taken as read. It's based on changing epidemiology and needs, the ever expanding possibilities of healthcare, and finance. By 2020/21 the NHS needs to close a gap of £30 billion a year. We've heard a lot in the election about the £8 billion extra funding, but little about the 2-3% improvement in efficiency needed every year. The NHS has achieved 1.5-2% efficiency savings in recent years, but this has come mainly from freezing salaries, a strategy that is probably not sustainable in the longer term. The only way to achieve 2-3% savings year on year is through doing things differently.
The broad formula laid out in the Five Year Forward View, the current change manual for the English NHS, is "prevention, invest in new care models, sustain social care services, and over time see a bigger share of the efficiency coming from wider system improvements."
Prevention won't make the savings in the short term and may never if we simply delay our dementia, arthritis, deafness, blindness, and frailty. Sustaining social care will also mean more funding and radical change, and, as one speaker said, social care includes "the good, the bad, and the really, really ugly" with some social services resistant to all change. (The same might perhaps be said of the NHS.)
Improving efficiency and productivity
The big savings have to come from frontline care, which means clinicians in both the community and hospitals working in different ways. What might those ways be? The Five Year Forward View lays out several possible models, and at the meeting Penny Dash, a director of McKinsey and Co, summarised ways of improving the productivity of frontline care, all of which demand new systems, strong leadership, new capabilities, and culture change—all of which might be resisted.
Integration of care is essential—to the point where we don't think hospital care, primary care, mental healthcare, or social care but simply care. Dash characterised integrated care as "knowing who everybody is" and meeting their needs. This means risk stratification of patients and proactively caring for those who need most care. Paul Mears, chief executive of Yeovil District Hospital NHS Foundation Trust ("the poster child of moving to new models"), said how 4% of patients account for 50% of the costs in Yeovil. By concentrating hard on those patients, the system has been able to improve care and reduce costs. But for some the idea of concentrating on a few clashes with the fundamental NHS principle of universal coverage.
The next key to raising productivity is to operate at scale. A general practice caring for 6000 patients cannot possibly provide care 24 hours a day seven days a week, but a practice caring for 30 000 to 40 000 can. A senior figure in the audience said that the NHS should be willing to buy out every general practice in London that becomes available.
Technology—particularly universal availability of electronic records and online consultation—can raise productivity, and so can "standardisation and protocolisation" wherever possible, skill mix, and rigorous measurement. Dash advocated "industrialisation" of healthcare with much more standardisation, better use of the workforce ("not training people for three years to do a job that can be learnt in three weeks") and estates ("every room in the NHS should be used 12 hours a day seven days a week"), and strong encouragement of self-care.
As I listened to this, I couldn't help but think that it would feel like an assault to those who cherish the artistry of general practice, even comparing it to conducting a symphony orchestra. Dash also advocated that GPs should "work at the top of their licence," not seeing routine patients but rather overseeing other staff—perhaps nurses—who deal with routine care, and managing directly only the most complex cases. Later in the meeting it emerged that studies of the work of consultants had shown that they spend only 25 hours a week in direct patient care: the rest is swallowed up by administration, chasing notes and test results (both of which could be replaced by use of IT), research, journal clubs, and a host of activities that do not directly support patient care.
Vanguards
In an attempt to support, encourage, and spread new models of practice NHS England has selected Vanguards, bodies in the NHS that are trying new ways. Samantha Jones, director of new care models with NHS England, described how they had called for examples that were locally owned and included clinical engagement and patient involvement ("a must have every step of the way.") The 269 applications where whittled down to 63 that were then presented in live shows. The 63 Vanguards then voted for the best, and 29 were selected. The presentations of the Vanguards selected can be seen on YouTube.
The idea is that those at the centre won't direct the Vanguards but simply support them, removing barriers—like existing contractual mechanisms—that stop them doing what they need to do to succeed. Simon Stevens, chief executive of NHS England, has said that there is nothing too big or risky for NHS England to consider in supporting the Vanguards. (I'm reminded of my favourite quote on leadership that "great leadership is having the strength to abandon yourself to the wild ideas of others.")
The Vanguards "have to be rationally replicable," but it seems that NHS England is not entirely clear how that can be determined. I fret that creating major change locally is hard, but that spreading it across the NHS is even harder.
Yeovil
Mears, who came from British Airways to Yeovil, said that reforms in Yeovil have had three main ingredients: finding the right leadership team, building partnerships, and making practical changes. Mears was able to select his own team, and all the members had to be willing to think differently. It was striking that almost all of his team came from the private sector, mostly from companies not in health. Was this, I wondered, central to Yeovil's success? Can radical change be made by those marinated in NHS culture for years?
The new way was symbolised by everybody working in an open plan office, and now all the leaders work at one big table. Yeovil has adopted a culture of openness.
The most important partnership for the Yeovil hospital is with primary care, and Mears has spent a lot of time driving around South Somerset building relationships with GPs. The hospital is now forming a joint venture with 19 practices, and all will contribute to the funding. Mears is keen to have data on all the patients in the area, which means sharing records—a development that is difficult for some GPs. The data they have allowed identification of the 4% consuming 50% of the budget, and a "care hub" run by the hospital but staffed by GPs concentrates on caring proactively for those patients.
Mears observes that general practices are under severe strain and that it's becoming increasingly difficult to recruit GPs. Do the practices have to be staffed by doctors, he asks, when doctor are not available. Why not pharmacists, physiotherapists, or nurses? He wants to support the practices as much as he can.
Many of the hospital's other partnerships are with private sector companies, and all those on the platform were convinced that the private sector has to be part of reshaping the NHS—despite the protestations of some of the political parties.
Success?
The Vanguards began only a few weeks ago, and the success of the programme has yet to be seen—although all of the sites are being evaluated in real time with all learning, including failures, being shared. Later will come the challenge of spreading across the NHS those models that work. Success is essential for the preservation of the NHS, and surely a bottom up approach has a greater chance of success than another top down reorganisation.
Richard Smith was the editor of The BMJ until 2004. He is now chair of the board of trustees of icddr,b [formerly International Centre for Diarrhoeal Disease Research, Bangladesh], and chair of the board of Patients Know Best. He is also a trustee of C3 Collaborating for Health.
Competing interests: RS is the chair of and has equity in Patients Know Best, a company that brings patients' medical and social care records together in one place under patients' control and has many contracts with the NHS. He was employed by UnitedHealth Group and worked closely with Simon Stevens. He was also a member of the Independent Commission on Whole Person Care set up by the Labour Party. The views expressed are entirely RS's and nothing to do with any of the organisations with which he is associated—and mainly he's simply reporting on what was said at the meeting.