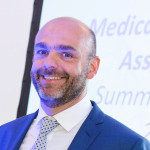 Melissa Terras is the most downloaded academic in her faculty at UCL, and attributes her success to social media.
Eight years ago Terras (pictured below), director of UCL's Centre for Digital Humanities, was supervising a PhD student's research into the history of blogging. She started her own blog in response to this, but it was the advent of Twitter and a return to work from maternity leave that convinced her of social media's potential to raise her profile as an academic.
Her published papers, dating back more than 10 years, were now part of UCL's open access repository, and she used her blog to highlight them and describe the background to her research.
"Nobody cares if you put stuff into an open access repository," she told a seminar of BMJ specialty journal editors this week. Being an academic, she argued, is all about people knowing about your research, and this is where social media comes in. "Don't leave a paper to its own devices. People with an online presence have a scholarly presence. Social media is part of academic performance," she said.
Terras compares a monograph's typical print run (400 copies), with the 1000 daily visitors to her blog (supported by weekday Twitter activity between 11am and 5pm UK time, which also catches the US working day), and the fact that one in three of the 6172 open access paper downloads from her department are hers.
What is her advice to academics looking to develop and increase their social media profile?
Terras urged her audience to behave in a manner that befits an academic, which means ignoring internet "trolls" who seek to hijack posts with provocative and off-message feedback. This includes a growing number of online misogynists.
She also told them to safeguard their online identity, recounting how she was forced to correct many websites that mistakenly identified her as an expert on tarot cards. Also, references to family life are confined to "the boy," "twin one," and "twin two."
How does she incorporate social media activity into her personal and professional life? It needn't dominate, is her advice, describing Twitter as a "green room" where "you can have days off."
David Payne is digital editor and readers' editor, The BMJ.