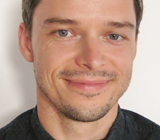 Earlier this week, I saw someone put up their New Year's resolutions from last year (NYE 2013) on social media to evaluate what they had achieved. It was, in fact, rather a lot, and got me wondering how successful I am at staying committed to change. Now I'm as blindly optimistic as the next person when it comes to estimating my capacity for reinvention, and can set resolutions with gusto. But right now, I can barely recall any that I've made.
If I've learnt anything about change management, it's that in order to see outcomes you need to set goals and measure progress. So, in an effort to improve my paltry record, I'm sharing with you my leadership resolutions for 2015:
1) Maintain the momentum in my development—With the formal component of the Bevan programme at the NHS Leadership Academy behind me, it would be easy to get drawn back in to old ways of working. To capitalise on the investment I've already made, I need to keep my progress alive and find ways to exercise my new skills.
2) Living NHS values—I've thought a lot about values in the past year; how they govern behaviour and how difficult it can be when I feel my values are compromised. Can values be taught? What if personal and organisational values are not the same? Should we recruit based on people's values? Happily, my personal values and NHS values are aligned, so I resolve to be guided by these in my clinical and leadership work, even at the most challenging times. Briefly, these include:
Working together for patients—Collaborations that put patients first
Respect and dignity—Valuing patients, carers, and staff
Commitment to quality of care—Aspiring to excellence
Compassion—Engaging with sensitivity and kindness
Improving lives—Promoting better health and wellbeing
Everyone counts—Inclusive services making the best use of resources
(Adapted from the NHS Constitution, 2011)
3) Keep reflecting—The most useful (and enjoyable) tool I've come away with from my leadership development is regular reflection. It helps me stay grounded, connected, make sense of what's going on around me, and take learning from experience. Those of us who have found it useful to reflect on Twitter are taking this habit into the New Year. So far, reflective chats we have organised for 2015 include:
14 Jan 7pm—Innovation
28 Jan 7pm—Social media
11 Feb 7 pm—Patient empowerment
If you're keen to take part, use the Twitter hashtag #ReOTD and follow @ReOTD_latest for information and updates.
That's it. These should be enough to keep me going, and hopefully give me the stretch I need to grow. Will they be forgotten by the spring? Or will I be celebrating my perseverance? Ask me in 2016 . . .
Billy Boland is a consultant psychiatrist and associate medical director for quality and safety at Hertfordshire Partnership University NHS Foundation Trust. You can follow him on Twitter @originalbboland
Competing interests: I declare that I have read and understood BMJ policy on declaration of interests and I have no relevant interests to declare.