Two people with gunshot wounds are brought to the MSF hospital in Leer. They were at a celebration the previous evening when someone entered and started shooting. Five people were seriously injured. Two of them managed to reach our hospital, but the other three died on the way.
During my support visit to the hospital, I see one of the victims, a boy in the intensive care unit. The nurse tells me that he was shot in the buttock and the bullet exited through his stomach. The doctor cleaned the wound as much as possible and bandaged it. We hope the bullet has touched nothing essential, but there's lots of bleeding and two laboratory technicians are trying hard to find a blood donor.
On the other side of the intensive care unit is a young man on a mattress, his head bandaged. The bullet entered through the back of his head and exited just above his right eye. He is unconscious. It's remarkable that he has survived so long.
I visit the other departments of the hospital, take a look around, and talk to my colleagues in our therapeutic feeding centre and clinic. While walking towards the maternity ward, I hear heart wrenching screaming and wailing. The sadness in those cries echoes around the compound. I see a grief stricken mother, her face etched in pain and covered with tears. She's being supported by family members as they walk out the gate. My worst fears are confirmed when I see a man and a woman carrying a lifeless body wrapped in fabric. Its small size tells me that it's the boy. I stand still for a few moments. So young, so pointless.
I decide to go back to the intensive care unit to support my colleagues. Everyone's back at work again, but I see the mother of the man with the head injury sitting at his bedside. Her legs are drawn up to her chest and her arms are wrapped tightly around them, her shoulders moving up and down as she sobs. I'm not sure what to do—should I leave her alone or should I stay with her? She seems to have shut herself off from her surroundings. I'm a stranger, maybe she wants to be alone? But I want her to know that she isn't alone, I can't see this sorrow and just pass her by.
I sit down next to her and rub her back to get her to calm down. Her breathing is rapid and I'm afraid that she's starting to hyperventilate. I talk calmly to her and then start breathing exercises, exhaling out loud, hoping that she'll join me and her breathing will slow down. The minutes seem like hours, but eventually her breathing stabilizes.
She climbs onto the middle of the mattress and she grabs hold of her son's hand. She doesn't look at me but it doesn't matter. She's able to function again as a mother to the son she loves so much.
Two days later I visit the intensive care unit again. The young man sits upright, while his mother helps him to drink a cup of milk. He drinks well and the nurse tells me that he has started talking. Miracles can happen, even here.
Medical specialist Maartje Hoetjes has been working in one of South Sudan's more remote areas since September 2014, meeting displaced families and assessing their health status and needs. Maartje is a member of MSF's Emergency Team based in Amsterdam, having completed several MSF missions with roles ranging from outreach nurse, to hospital manager, to her current role as medical specialist.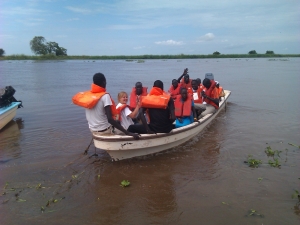 Maartje taking part in outreach work with the MSF team, South Sudan, October 2014 © MSF
Read more from our teams in South Sudan.
About MSF in South Sudan
Médecins Sans Frontières/Doctors Without Borders (MSF) has been working in Leer, South Sudan, for the past 25 years, providing both in and outpatient care for children and adults, surgery, maternity, HIV/tuberculosis treatment, and intensive care.
In late January/early February this year our hospital in Leer was destroyed in conflict, along with most of the town. It was the only facility providing secondary healthcare, including surgery and treatment for HIV and tuberculosis, in an area with approximately 270 000 people. In May, MSF resumed some activities as people started to return to Leer.
More than one million people have been displaced within South Sudan following the conflict that erupted on 15 December 2013, while some 400 000 people are seeking refuge in countries bordering South Sudan, according to the UN.
MSF has opened new projects and scaled up its response to the emergency and to the growing needs of people directly affected by the crisis. MSF has more than 3300 local staff and 350 international staff working in South Sudan, and also runs programmes providing healthcare to people seeking refuge in neighbouring countries as part of its response to the humanitarian crisis.
Please give generously to Médecins Sans Frontières
· £38 can pay for a suit to protect against Ebola virus
· £53 can send a doctor to the field for a day
· £95 can provide a year's supply of treatment for a person living with HIV
· £153 can provide lifesaving blood transfusions for three people
You can donate:
· Online at www.msf.org.uk/thebmj
· By phone: 0800 408 3897
· £5 by texting "Doctor" to 70111*
*UK mobile networks only. You will be charged £5, plus your standard network rate. MSF will receive 100% of the £5 donation. If you have any questions please call +44 (0)207 404 6600.