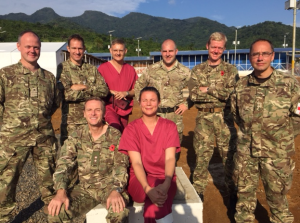 If you had asked any of us about our plans for November 2014, it probably would not have included a tour to Sierra Leone to treat patients with Ebola. But here we are: eight British army and navy doctors, sweating in the heat and the humidity of a west African afternoon, waiting for the President to open our brand new Ebola treatment centre in Kerry Town, Sierra Leone.
Our Ebola Virus Disease Treatment Unit (EVDTU) is bespoke and comprises of an 80 bed facility run by Save the Children, and a 12 (expanding rapidly to 20) bed unit run by 22 Field Hospital. Our unit is specifically designed to treat healthcare workers who are suspected of contracting EVD.
Our journey to Sierra Leone began in mid September with some unexpected phone calls. The team consisted of intensivists and physicians specialising in infectious diseases, gastroenterology, and cardiology. Interestingly, this spirited group were to be led by an . . .  orthopaedic surgeon?
We reported for training at the Army Medical Services Training Centre in Yorkshire. We had all previously used this training centre in preparation for tours to Afghanistan, however, this time it had been reconfigured to represent our EVDTU.
At this juncture, you may wish to know the personalities of our team: Stuart, our fair skinned, Scottish infectious disease physician and intensivist, tries to avoid the sun almost as much as he does vegetables; "TNR," our neuro intensivist, can sometimes be found wandering in the undergrowth in search of his next entomological specimen; Mark, our tropical medicine expert, has spent several months collaborating with other EVD experts to produce our training package and is now exasperated by our "electronic isolation;" Paul, our cardiologist from a "leading London teaching hospital," can be found on www . . . ; Tom was recalled from his attachment to the World Health Organization in Guinea and Sierra Leone to become our subject matter expert—in keeping with local customs he is non conformist when it comes to dress policy; Dave is still wondering how an orthopaedic surgeon got lumbered with controlling a bunch of physicians.
Lastly, this entry is being written by Christian and Lucy. Christian is a gastroenterologist, normally found in the bowels of Paul's "leading London teaching hospital," and is trying to keep our patients out of the s*** by demonstrating how to use a diarrhoea management system. Lucy has just come back to clinical medicine after studying for a PhD and having two children—she is wondering if a third right now would get her back home.
We have now been in Sierra Leone for two weeks, and been exposed to the usual frustrations of an emerging humanitarian operation: reduced communication; supply line difficulties; acclimatising to 80% relative humidity; and learning the local dialect, which lies somewhere between Brixton and Peckham. However, these difficulties are ameliorated by a sea view and friendly nurses! We have been asked to produce a weekly blog, aiming to keep you abreast of our time spent treating Ebola in Sierra Leone.
Lt Colonel Christian Ardley is a consultant gastroenterologist and internal medicine consultant. Major Lucy Lamb is a specialist registrar in infectious diseases and general internal medicine.
No competing interests to declare.