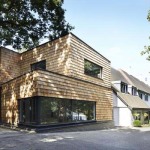 A hospital "lullaby factory" and a children's hospice extension in the style of a garden shed are among 15 health related buildings to welcome visitors as part of Open House London this weekend.
Haven House Children's Hospice has leased The White House, an Edwardian Arts and Crafts building, since 2002. Earlier this year the charity, based in Woodford, Essex, extended its premises by opening a timber-clad "garden shed" (pictured above). Inside are two consulting rooms for Great Ormond Street Hospital doctors, a music therapy room, and activity space.
The project secured a £497k Department of Health grant and attracted an additional £160k in donations. The team had just a year to complete the building within budget. They also needed to accommodate a collection of protected trees.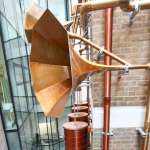 Architects at Studio Weave faced a different challenge with Great Ormond Street Hospital: how to transform a landlocked exterior space, sandwiched between one modern building and its 1930s neighbour, into a fantasy landscape.
Their solution? A secret "lullaby factory" (pictured right) that can only be seen from inside, with its musical outputs accessible via a radio frequency or special listening pipes. The architectural installation includes decommissioned pipes from the hospital's boilerhouse, and is scheduled to last for the next 15 years—when the 1930s building is set to be bulldozed.
South of the river at the Bethlem Royal Hospital, visitors can get a sneak preview of the Museum of the Mind.  The museum will provide a history of mental healthcare and treatment when it opens next year.
Further south, the £14m West Norwood Health and Leisure Centre (pictured right), which opened in 2012, boasts a 25m swimming pool, health and fitness suite and gym, dance studio, and GP and dental surgeries. Its buildings are connected by "internal streets." These are embedded into the ground to minimise the building's impact on its neighbours.
Open House London 2014 runs on 20 and 21 September and more than 800 buildings will be opening their doors.
David Payne is digital editor, The BMJ.