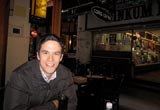 After being one year out of clinical practice, and working full time in medical editing at The BMJ, I decided to take some time off from work and return this week to the trenches of the healthcare system as a locum GP in my native Portugal, where I remain licensed to practice. I personally feel that it is very important for clinicians who are also professional editors to stay in active clinical practice, even if it's only to a small extent. I think one job ends up enhancing the other. As editors, we get to easily stay up to date and at the cutting edge of knowledge, but as clinicians, contact with the often complex problems of real patients helps us to more easily identify the learning needs of doctors.
My very first patient this week complained of low back pain, which is one of the most common symptoms reported by primary care patients worldwide, and the number one disorder in terms of years lived with disability. One of the things I had to do was decide whether or not to request imaging tests. It is important to know what the appropriate indications are for lumbar spine imaging, since there is a real risk of causing serious, unnecessary harm to patients by over-resorting to imaging tests.
The latest rational imaging Practice article on low back pain in primary care says the tests can be overused given their "low yield of useful findings, high yield of misleading findings, and lack of proved benefit for outcome." One of the potential risks is subjecting patients with non-specific low back pain to surgery, when there's a lack of evidence to suggest that it may be superior to conservative treatments.
In the latest change page article, Wilco Peul and colleagues recommend that surgery should be the last option for persistent and severe low back pain, which should only take place when trials of combined physical and psychological programmes have failed.
Two days ago, I decided to refer a patient to the nearest emergency department, which is located almost 10 kilometers away (just over six miles). But having GPs working in primary care out-of-hours facilities located within emergency departments of hospitals is one of the recommendations of a joint report by the UK's College of Emergency Medicine, Royal College of Paediatrics and Child Health, Royal College of Physicians, and Royal College of Surgeons. As The BMJ's Gareth Iacobucci reports, this recommendation was issued in the hope that, if implemented, it could help alleviate pressure on the UK's hospital system.
It is expected that having a common working space may reduce the number of unnecessary admissions by allowing better patient streaming after triage, better information sharing between primary and secondary care doctors, as well as enabling diagnostic facilities to be shared.
GPs or family doctors are often the first port of call for families in distress. By being based in the community, GPs are able to understand the influence that factors such as employment, economic deprivation, and physical disease have on the wellbeing of families. One recent Research paper in The BMJ, a Norwegian population based cohort study, looked at whether there was a risk of recurrence of cerebral palsy (the most common cause of physical disability in children) among twins and first, second, and third degree relatives.
The authors found that people born into families in which someone already has cerebral palsy are themselves at higher risk, but it depends on the degree of relatedness. Nevertheless, in a linked Editorial, Peter Rosenbaum stresses that even family members with a 15-fold increase in the risk of recurrence have a small absolute risk, so clinicians can use this information to provide reassurance to families who already have relatives with cerebral palsy. And this sounds like music to a GP's ears.
Tiago Villanueva is the editorial registrar at The BMJ.