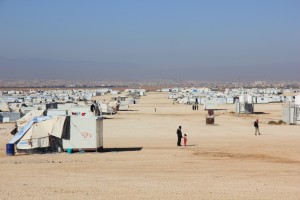 A new temporary home in the desert
Assisted by the UN Refugee Agency (UNHCR) and the Jordanian authorities, large families flee their homes in war torn Syria to seek refuge in Jordan. Refugees cross the border in the shadows of night carrying their life possessions in rope bags and cardboard boxes. They are first registered at the Raba Al-Sarhan reception centre where they receive immediate medical screening and vaccinations against polio and measles, along with vitamin A supplements. Patients with more serious medical conditions, often the war-wounded, are referred directly to a hospital in the nearby city of Mafraq. The rest are then transported to their new temporary homes at Zaatari refugee camp.
Zaatari camp opened in July 2012 and has grown exponentially ever since. The camp is now at full capacity and is in the process of moving from an emergency settlement to a well organised tent and caravan city. However only a fifth of the 600,000 Syrian refugees in Jordan are living in the camp, the rest have been absorbed into communities across the country. This is a concern for UNHCR and its partners as it is much harder to provide healthcare assistance to refugees outside the camp.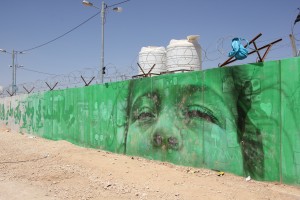 Healthcare services in a Syrian refugee camp
There are almost a hundred doctors working in clinics across Zaatari, which is sufficient, even if the work is stressful, states UNHCR health officer and doctor Brendan Dineen. Inside the camp there are five primary healthcare facilities and three hospitals with ambulance services to the nearby hospital in Mafraq for more serious cases. Common medical cases include diabetes, scabies, infections, headlice, skin diseases, and treatment of the war wounded. Many of the refugees suffer from post-traumatic stress disorder related to the fighting witnessed in Syria. This condition is treated to a degree through psychological support at the clinics. Clinics also provide reproductive education, maternal and post-natal care. Disabled persons and the elderly have their own specialised care units and facilities. Malnutrition is not a significant issue in the camp, however there is a contingency treatment plan in place for vulnerable children.
Dineen has worked in many refugee camps in the past and, in comparison to them, Zaatari functions very well. UNHCR uses significant resources in monitoring, coordination, and development of activities in partnership with other local and international NGOs. However, there are still many challenges to overcome. For example the use of communal toilet and washing facilities in the camp. Refugees naturally do not want to share these facilities with large groups, especially women and young girls who are at risk from harassment. To avoid the communal facilities refugees have developed their own private latrines adjacent to their tents and caravans. The logistics for camp management to collect wastewater from thousands of private pits is near impossible. This poses a serious health risk with the approach of summer and the potential outbreak of acute diarrhea and cholera.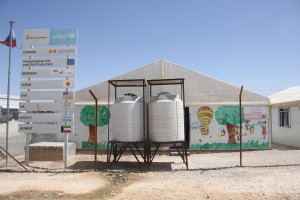 Private enterprises flourish
As opposed to in-kind food distribution, refugees now receive food vouchers twice a month in which they can buy anything from Zaatari's 16 mini markets and two supermarkets. Fresh fruit, vegetables, and meat are proudly displayed in these stores while trolleys are pushed through checkouts. An atmosphere of urban normality greets shoppers as they stroll along the clean isles. In-kind food distribution ensured a certain quality of nutrition for families, but the recent shift to a voucher based system has entitled refugees with the freedom of choice and a greater sense of dignity and self-determination.
People can be extremely creative and entrepreneurial under difficult circumstances and private enterprises flourish in Zaatari. Crowds bustle along the Champs-Élysées, Zaatari's main market street, amongst shops that sell anything from wedding dresses, wheel barrows, to washing machines. The camp has evolved into a self sufficient city, but this has also created tensions within Jordanian communities where populations are living in poverty without access to the same level of services. UNHCR and its partners are trying to create methods to connect the refugees with the Jordanian people. Last month a handicraft fair was organised in the camp for Syrian and Jordanian women. However these tensions need to be further addressed as refugees continue to pour across the border increasing the strain on Jordan's healthcare systems, neglected water infrastructure, and low quality housing.
Jordan has historically been a gracious host to refugees fleeing conflict in the region, from Palestinians, to Iraqis, and now Syrians. The pressure will continue to mount as this week marks another milestone in the three year conflict with the opening of Azraq, a new refugee camp for Syrians in Jordan.
Päivi Hietanen is the medical editor-in-chief at The Finnish Medical Journal.
Matthew Richard is the associate coordination officer, UNHCR Jordan.
Competing interests: Both authors declare that we have read and understood the BMJ Group policy on declaration of interests and we have no relevant interests to declare.