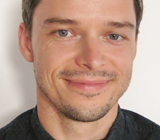 The first residential for the NHS Leadership Academy felt barely five minutes ago, so I balked as I realised how much there was to do for the next. The reading list and exercises laid out for me on the online campus disappeared off the bottom of my computer screen. An unwelcome yet horribly familiar feeling of having too much to do in too little time swept over me with an intensity I'd not felt since medical school. Early learned coping skills of playing cards or going to the pub sprang to mind. But having long since proven their ineffectiveness in getting things done, I began mirthlessly plugging through the content, determined not to enjoy myself.
But it wasn't long before I was engrossed. The online profile of the course is good, and different to the sort I've seen before. E-learning is ubiquitous in modern professional development, and I've racked up hundreds of hours over the years collecting CPD points. I tend to find e-courses a bit dry and unimaginative, often just regurgitating content from policy documents and guidelines in shorter nuggets for you to read through.
I found the "virtual campus" different. The look and feel of the site is more engaging than others I have seen and I got a sense that what I was working through was worthwhile. The learning is set in Glenvern, a fictitious county that has the range of population needs, services, and challenges that you would expect to find in any local health economy. As my learning develops, I get a sense that I am forming an understanding of the place and a relationship with it. It's also not difficult to make the mental leap to my own community and place of work. Imagining how to apply the learning, and the issues that might arise is not hard.
Part of the homework was to find an international example of quality improvement. The theme of the 2nd residential is "broadening horizons," so we were encouraged to cast our nets wide and explore work we had no previous knowledge of. I took to my network, asking those in the know for something that would fit the bill. 24 hours and a mini piece of crowd sourcing later, I had the ideal example.
Obsessed with all things Scandinavian, I was excited to learn about Qulturum, a quality improvement initiative from Jönköping, Sweden. As I read, I saw Jönköping bore an uncanny resemblance to Glenvern, and I began to understand how their learning culture and concept of "quality as business" could be introduced into a health service to improve outcomes. Being driven by curiosity is the holy grail of learning, and I rode the flow. As my project kind of finished itself, it didn't feel like work at all.
So with my preparation done and examples in hand, I headed north to Leeds once again for another three day challenge. And for this visit I was to have the unenviable persona of the new boy, as I gate crashed a cohort different to mine. Everyone would know each other, except me. I set my charm offensive to "stun."
I declare that that I have read and understood the BMJ Group policy on declaration of interests and I have no relevant interests to declare.
Billy Boland is a consultant psychiatrist and lead doctor in safeguarding adults at Hertfordshire Partnership University NHS Foundation Trust.