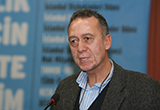 Back in June 2013 protests began to protect the trees in Istanbul's Gezi Park. Within a few days this turned into an outcry from millions of protesters all over Turkey asking for more democracy and freedom from the ruling Justice and Development Party (AKP) and, particularly, prime minister Tayyip Erdogan. To subdue protesters, police used excessive tear gas and water cannons mixed with liquid pepper gas. During the demonstrations six people died, and 11 lost their eyesight because of tear gas canister injuries. There were hundreds of head injuries requiring hospitalisation and surgery, and one protester is still in an intensive care unit lying unconscious.
During the protests, first aid medical facilities were formed to help the protesters by volunteering doctors and other medical staff. Protesters needing hospital care were sent to nearby hospitals. Nearly 9000 patients were treated in these "infirmaries." The only healthcare provided by the Ministry of Health was to provide ambulances, while thousands needed help to overcome skin and respiratory injuries owing to the excessive use of pepper gas, as well as injuries due to direct trauma. Many patients preferred being treated in these facilities and refused to go to state hospitals for fear of getting registered as a protester. The governor of Istanbul accused doctors of helping the "criminals."
The protests lasted for about a month, and at the end millions of protesters were defined as an "enemy," including doctors. A new law was prepared to prevent medical staff helping if such an action against the government takes place again. The original law that was sent to the commission in parliament stated: "All practices and procedures related to the delivery of health services shall be under the scrutiny of the Ministry of Health. Those who deliver or commission others to deliver health services without a proper license shall be subject to imprisonment from one to three years and an administrative fine equivalent to that of one hundred thousand days."
A fine equivalent to 100 000 days is a fine of up to 5m US dollars. Parliament decided to reduce the fine to 20 000 days (equivalent to $1m) and a new sentence for emergency situations was added which said: "With the exception of health services in emergency situations by authorized and competent people until the arrival of formal health services when healthcare becomes continuous." The law passed and is now waiting for the president's approval to be effective. The Turkish Medical Association visited President Abdullah Gul to explain the pitfalls of the law and asked him not to sign the law. The president will decide by 25 January.
Obviously this law will criminalise independent medical care for doctors throughout Turkey and provide the Ministry of Health with unprecedented control over healthcare practices in Turkey. In addition, international standards for emergency medical care are based on medical need, not the presence or absence of medical transport. According to the law, the presence of state ambulances at a demonstration will be considered grounds not only to prevent emergency medical care by competent, independent clinicians, but also to prosecute emergency medical responders acting under the International Code of Medical Ethics to provide care to those in need. The fine and duration of imprisonment is more than that for major crimes in Turkey.
Even if the law is approved, I am sure that the Turkish doctors will act according to universal ethical codes as they have done in Gezi Park, and numerous earthquakes and natural disasters.
See also:
Competing interests: I declare that I have read and understood BMJ Group policy on declaration of interests and I have no relevant interest to declare.
Ahmet Ozdemir Aktan is professor of surgery, Marmara University School of Medicine, Istanbul, Turkey and the president of the Turkish Medical Association.