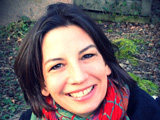 "I'm going to be spontaneous on Tuesday," declares Josephine, a recovering anorexic in the play Mess. She's a 20 year old drama student who's been admitted to hospital after her weight falls below what's safe.
The line about planning spontaneity is just one that has the audience laughing. But to anyone who has known an anorexic it rings true, summing up perfectly the determination that strikes at the heart of the disease; to stay in control and to do whatever it takes, first to lose weight and then, hopefully, to try to stop thinking about it.
I see Mess at the Institute of Psychiatry in London after being tipped off about it by a friend. The show is sold out, but I use my press credentials to secure a ticket. When I arrive at the Wolfson lecture theatre on a Friday evening I find a lectern decorated with a garland of flowers, a Jacuzzi-like construction with parasol, both covered in a white candlewick fabric, and a large white, fluffy duvet to snuggle down in.
There are just two other characters alongside Josephine in this play within a play; her friend Boris, and Sistahl, the musical accompanist. All three have impeccable comic timing and their play about Josephine's anorexia rolls along with laugh after laugh, something that might seem impossible to anyone who has been touched by anorexia. But it works.
While it maintains its light heart, Mess does not shy away from the horrors of anorexia—the anorexic's seemingly unflinching resolve to self destruct, the joy of perspiration as evidence that calories are being discarded, and the ever present voice that seeks to lure the anorexic back towards starvation.
And then there is the saintly patience and enduring presence of the families and friends as personified by Boris; never losing his temper, always constant and forever encouraging.
We see Boris gently trying to interrupt Josephine from her reverie of calorie counting, weighing scales, multi-coloured multi-columned charts, twinkling fairy lights, and gleaming medals for weight loss that she hangs from her pink parasol. He is at her side as she tries to eat a thin slice of apple (and fails), as she enters hospital, as she takes her first small steps towards recovery, and as she falls again for her comfort blanket of self deception and isolation.
But before things meander towards sadness there is a burst of song and refreshed vigour towards recovery. That is until the cast must think of an ending to the play and Josephine declares it can never end because anorexia never does. "But Josephine, I think these people have homes to go to," says Boris. And Josephine declares gloomily, "We are going to have to sit here and feel the unendingness."
And for a while we do, but the play does eventually draw to a close with a burst duvet ("which would have looked like an accident but was planned" and which signifies Josephine's attempt to make herself live with the discomfort of a "mess") and a declaration that living life to 70% capacity may have to do, and that mess can be incredible if a bit scary.
Caroline Horton, who plays the lead role, wrote Mess more than half a decade after being hospitalised with anorexia. She had given a talk at her school about her experience of studying drama and setting up a theatre company and was overwhelmed by the response she got when she briefly mentioned anorexia. "There was this communal relief that someone had spoken out loud about this disorder," she said after the play.
Horton knew she had more to express about her illness and eventually collaborated with the other actors, therapists, and clinicians to make the 90 minute show that won the Best Ensemble at the Stage Awards at the Edinburgh Film Festival in 2012.
The play toured the country in 2013, including many schools and NHS venues. It is often followed by a discussion with a panel that includes the actors and the psychiatrists and psychologists who advised the company. And there are handouts from BEAT, the charity for people affected by eating disorders and which has financially supported the production.
I found it hard to write about Mess. The ending is unsatisfying and I'm not sure what the message is. But perhaps that's exactly the point. And perhaps I don't like the idea that the challenge of anorexia never ends.
Look out for further dates of Mess by visiting Caroline Horton's website.
Zosia Kmietowicz is a freelance journalist.