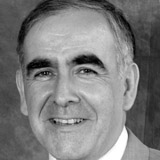 My knowledge of eating disorders stems less from my medical training than from vicarious insights into their ravages in the milieu of my teenage and young adult daughters. Yet not infrequently on post-take ward rounds I encounter those affected and am generally struck by an inarticulacy on both sides, and a mismatch between the medical setting and a complex and personal world of image, identity and anomie.
So I was delighted, if uncertain of my credentials, to be invited by our medical student society  to participate in a post-performance discussion of a play based on eating disorders, Close to You . My partner in crime, along with the author/performer Jennie Eggleton and director Anna Simpson, was Prof Jim Lucey, an articulate, entertaining and insightful psychiatrist and commentator.
The evening was fascinating, entertaining and thought-provoking in equal measure. It vindicated the entrepreneurial initiative of the medical students: the chair of their society, Conor Feely, who impressed with a performance of the play at the Edinburgh Festival Fringe, persuaded them to host it to two packed houses in the theatre of the Royal Irish Academy of Music.
Based in part on her own experiences of anorexia nervosa, Jennie Eggleton gave an impressive and rounded multi-character performance, which worked on many levels. As with much significant artistic output related to illness, one of the overarching impacts is to reassert human exuberance and vitality in the face of suffering, constantly reminding us not to let the illness define the person.
A part of this is the use of humour, often with dark tinges. This was a helpful counterpoint to the other abiding impression of life with an eating disorder, that of loneliness and insecurity. Further messages included the futility of head-on approaches, in this case focusing on food rather than the broader picture.
Prominent in the background was the distorting power of popular culture: the connection to Karen Carpenter in the title of the play is one of the recurring themes, and one of the funnier and painful moments was an audition for a celebrity show. The performance was heightened by an effectively sparse set and discreet live musical accompaniment.
The after-play panel discussion was lively and impressive in terms of the probing and questions from the students. One interesting theme was the importance of not wishing away the impact of beauty and attractiveness in society (1): from new born babies, through mothers treatment of their off-spring to achieving social and financial success, the impact of attractiveness is strong. Our challenge as a society is to ensure that we do not allow this to assume a hegemony over our lives without denying its place in all of our lives.
I left the evening reassured by the broad vision of our medical students, the value of the insights that arts can bring to care and communication in medicine, and as ever, the incomparably larger impact of live performance over cinema and other recorded media. From the post-performance buzz at the adjoining pub, I would strongly counsel other medical schools (or their enterprising medical student societies!) to strongly consider hosting Close To You as a stimulating adjunct to their medical education programme.
Desmond O'Neill is a consultant physician in geriatric and stroke medicine, and chair of the National Centre for Arts and Health.
1) Daniel S. Hamermesh. Beauty Pays: Why Attractive People Are More Successful. Princeton NJ, Princeton University Press, 2011. ISBN: 9780691140469