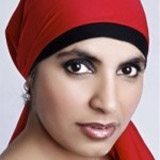 Two weeks ago we braced ourselves for US military strikes in Syria. I have been based in a northern Syrian hospital, working under the umbrella of non-governmental organisation Hand in Hand for Syria, and being filmed for BBC Panorama. As an emergency medicine doctor I was integrated into one of the most challenging medical environments I have ever worked in. Would there be reprisals from the Assad-led Syrian regime, we wondered?  It was a significant fear among the majority of us, as we checked dwindling atropine supplies and thought through mass casualty decontamination plans. But for now it appears the strikes have been averted. But what about the methods the regime is continuing to use against the civilian population as it wages war against opposition fighters? The UN has acknowledged that humanitarian aid and in particular healthcare is being hampered by those involved in the armed conflict—mainly Assad's forces. The denial of healthcare is described as a "weapon of war" by Paulo Pinheiro, the Brazilian expert leading a UN independent inquiry.
The Lancet published a letter this week signed by over 50 prominent doctors from around the world calling for protected access to healthcare in Syria. It outlines the universal responsibility shared by doctors to speak out against attacks against healthcare workers caring for those affected by war.
The letter describes a limited healthcare system where 37% of Syrian hospitals have been destroyed. David Cameron's Twitter feed has shown support for the letter, stating it was "right to highlight the problem of treating victims in Syria" and that the issue of "unfettered" access to healthcare would be raised at the UN General Assembly.
In this sudden storm of awareness my thoughts go back to last week when I was working in the northern Syrian hospital.  We found ourselves in the middle of a mass casualty situation when a nearby school was hit by a napalm-like bomb. Thirty students were severely burned, three of them fatally.
One doctor said to me this attack was not the worst, not the first, and wouldn't be the last, as we worked with limited resources and personnel. After the mass casualty incident, four members of staff collapsed and needed attention themselves. Overworked, exhausted, and with little outside support, how much longer can they continue like this?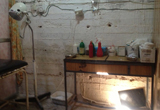 Chemical weapons are central to the intervention debate—but what about other lethal weapons that the Syrian regime is using on civilians in urban areas away from the fighting? Their impact is more significant when coupled with poor healthcare facilities to deal with those wounded through such strikes.  Healthcare workers and the injured are protected entities within international humanitarian law, but in Syria they are deemed high value targets. Hospital locations have to remain secret, and field hospitals move from place to place to avoid being compromised.
As the international community makes concerned nods on the topic of humanitarian assistance, the medics in the northern Syrian hospital I worked in continue as before. We slept fully clothed in our day clothes in case we had to evacuate in the middle of the night because of an airstrike. Female doctors leave their headscarves in place. Just three weeks ago, a missile hit just outside the perimeter of the hospital, killing a doctor. While the UN outline such practices as war crimes, it makes little difference at the moment to those in the direct line of fire.
Last week a hospital to which I had earlier transferred a gunshot patient to was hit by an airstrike, killing six people. A family living next door to the hospital were digging a bunker because of the persistent threat of hits. I have no idea if it was completed in time.
The Lancet letter outlines that a staggering 469 doctors have been imprisoned by the regime. A repeated tactic, breathtaking in its cruelty, is the targeting of Syrian frontline medicine under fire healthcare workers as they enter an area after a strike. This is how Isa Abdur Rahman, 26—a British medical volunteer working in a field hospital in Idlib—was killed in May. He ran out of the hospital to retrieve casualties and was hit by the second waiting strike.
Some doctors who had earlier supported international intervention had their allegiance to the Hippocratic oath questioned. It is actually their dedication to the oath that keeps them in Syria despite the daily risks they face.  Although most doctors stay outside the political debate, they share a common desire for a safe humanitarian corridor and to be able to carry out their medical work without fear of being targeted or their hospitals being hit.
Saleyha Ahsan is a British doctor and a freelance journalist.