Akerman—a £12.3m community healthcare building designed by the architectual practice Henley Halebrown Rorrison—opened last year as part of the regeneration of Myatts Field North in the south London borough of Lambeth. Sandwiched between homes and a local park, the bold white building stretches for 80m and, according to its architects, was designed to mimic the flat facades of an 18th century residential terrace whilst also referencing a vast church, with arches and crossings. Interior daylight-filled spaces aspire to instil a sense of calm. The flat roof is fronted by the word "Health" in giant letters.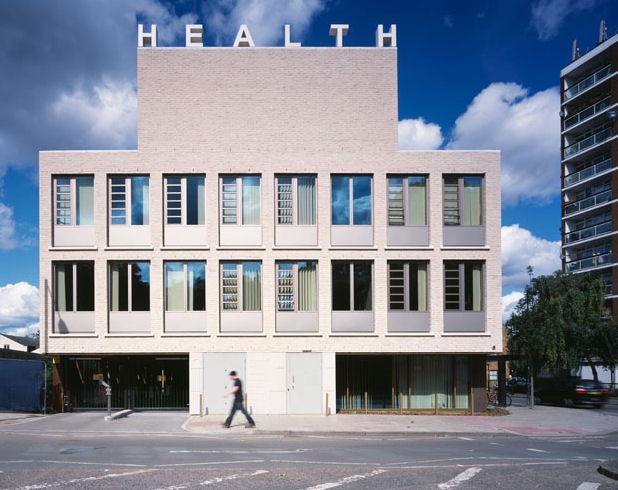 Akerman will by now be a familiar building if you are a patient at one of the four GP practices based in the building (there are also dentistry, midwifery, and children's services). But on Saturday 21 September hourly architectural tours will explain the building to visitors who have added it to their itinerary as part of the annual Open House London weekend 2013.
Open House London began in 1992 to promote the capital's building design and architecture. More than 700 public and private spaces open for free with enthusiastic architects, proud owners, or volunteer stewards on hand to offer tours or answer questions. There is now a worldwide open house movement in 20 other cities. Last year eight cities joined—Lisbon, Perth, Adelaide, Brisbane, Thessaloniki, Limerick, Buenos Aries, and Gdansk-Sopot-Gdynia.
But back to London, and, more specifically, to the other 11 "healthcare" buildings that will open their doors next weekend. The Sir Ludwig Guttmann Health and Wellbeing Centre (pictured left) now provides community health facilities for patients in the deprived London borough of Newham, but was built for the London 2012 Olympics. A virtual tour provides a taster of what visitors will see on Saturday and Sunday next week.
A third newcomer to Open House London's healthcare list is the North London Hospice (pictured right). Like Akerman and Sir Ludwig Guttmann's centre, the L-shaped building boasts ground source heat pumps and other sustainable features, but unlike them was designed on a more domestic scale in muted colours, clad in brick and timber with tall, slim windows, glazed gables, and a pitched roof. The hospice is one of two in this year's listings. In 2009 Greenhill Jenner refurbished a 1930s Hackney chapel to create a communal area within St Joseph's Hospice, where  hospice movement founder Cicely Saunders worked in the 1950s.
In central London, University College Hospital is showcasing its Macmillan Cancer Centre. The Open House London website commends the structure for making "clever use of its tight urban site by incorporating a highly flexible layout with a series of stacking, light-filled atria which lend a feeling of spacial generosity."
The weekend also showcases other slightly older buildings. Penoyre and Prasad, the firm responsible for designing the Guttmann building, is also showcasing a  second healthcare project. The Richard Desmond Children's Eye Centre at Moorfields Hospital opened in 2008 and was designed to transform a potentially traumatic visit for young patients into a positive one. At dusk a lighting sequence floods the building with dynamic, glowing colours.
The Maggie's Centre building at Charing Cross Hospital (pictured left) opened in 2009 with a raised roof to allow natural light for the 50 people affected by cancer who visit each day. Birch trees and other landscaping features cocoon the building from street noise. The building's architects, Elliotwood, also designed Kentish Town Health Centre, north London.
In 1994 the Iyengar Yoga Institute opened in Maida Vale, Westminster, as the UK's first purpose-built yoga centre. Maple floors and sweet-chestnut door panels combine with rope-free white walls and glass bricks to give the building a feeling of "solidity and importance."
Finally, there are some architectural classics, including:
The Royal Hospital Chelsea, founded in 1682 and designed by Sir Christopher Wren, Nicholas Hawksmoor, and Sir John Vanbrugh,
Finsbury Health Centre, Tecton & Lubetkin's Grade 1-listed modernist masterpiece,
British Medical Association House, bought by the BMA in 1923 and extended shortly after to provide offices now occuped by BMJ and others.  The building was originally designed by Sir Edwin Lutyens for the Theosophical Society in 1913.
David Payne is readers' editor and digital editor, The BMJ.