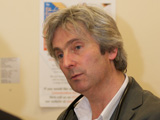 In January the government announced the establishment of a new service that will be operational in 2014. While this news seems to have gone under the radar so far, I'm confident that every GP in the country will be referring people to this service every week.
The new service is an Independent Assessment and Advisory Service (IAAS) designed to help around 300,000 people a year to stay in work and so avoid becoming trapped on benefits. GPs will be able to refer complex cases of sickness absence to the service in the same way as they can seek specialist healthcare advice for their patients with complex medical problems.
Referrals will be invited when a patient has been off work for four weeks.  The service will probably recommend and support a variety of non-medical interventions that GPs are not in a position to provide. It is estimated that, had such early intervention been previously available, around 40% of people currently on long term sickness benefits could have been maintained in work. One of the core frustrations of GPs is that they often feel obliged to sign notes for people for "other than medical reasons," and the new service will provide just the support that GPs need to be able to get better information and support in these circumstances.
There is a great deal of detail to be worked out in terms of the work of the service, which is designed to be an advisory service to employers, employees, and GPs, as well as a provider of detailed state funded assessments to enable the sickness absence to be better managed. It is clear, however, that the model for the service is in large part the current "Fit for Work" pilot services that have been in operation in different parts of the country since April 2010. The new service's assessment process outlined in the government's plans are virtually identical to the typical process of a Fit for Work Service, and it is encouraging that the government has embraced the vital element of these services, which is the case management of individual cases through to a successful conclusion. One of the most compelling conclusions from the pilot in Leicestershire is that more than 70% of people who are supported back into work cite non-medical interventions such as mediation/negotiation, personal support, and help with new employment as the ones that made most difference. The IAAS will be able to make such interventions available for the patients of GPs right across the country.
The question of whether the new service is adequately funded has been already raised by the Engineering Employers Federation, and it is possible that the level of case management that will be necessary has been underestimated. However, if case management is to make a difference there will need to be a localised element to the service, and it is therefore possible that clinical commissioning groups will be able to co-commission aspects of the service if it aligns with their strategic commissioning plans.
All this needs working through to ensure that the service becomes an effective support to the work of GPs in helping patients return to work. Nevertheless the government's initiative is to be applauded as it is allocating scarce resources to a point of considerable need within public health, a point at which considerable gains can be made for individuals. The new service sends an important message about the importance of work to an individual's health and wellbeing, and the associated benefits for wider society.
Rob Hampton is a GP in Wigston, Leicestershire, and clinical lead for the Leicestershire Fit for Work Service. He has a special interest in occupational health and the health and wellbeing of the working age population generally.