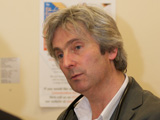 At the end of November the government will give its response to last year's sickness absence review led by business leader David Frost and healthcare expert Dame Carol Black.
A key recommendation of the review was the establishment of an independent assessment service (IAS), to which GPs could refer patients who have been off work for more than 4 weeks. If this recommendation is accepted it will be a major step towards appropriate and timely assessment of long term sickness absence.
It is important however that the process does not stop with assessment. There is a need for an IAS to have a clear pathway from the assessment of obstacles preventing a return to work, to the provision of case management of the individual case back into employment. In the absence of a system for case management, the patient will simply be returned to the GP with an assessment that will identify an array of clinical and non clinical interventions that the GP may not be able to manage within their clinical role. GPs are also not in a position to support negotiation of a phased return to work which is often a key element in success.
Alongside my life as a GP, I am clinical lead for the "Fit for Work Service" in Leicestershire. This service is one of several pilot projects set up by the government to explore early intervention to prevent long term sickness absence. Virtually all the GPs in Leicestershire have referred patients to the service, and much vital experience has been gained in the management of cases. One of the most powerful messages from the pilot is that 78% of people we help to return to work cite "non-medical interventions," such as mediation/negotiation, personal support, and help with new employment as the ones that made the  most difference. Healthcare interventions were cited by 22%.
The problem for GPs managing this complexity is that our time, sphere of influence, and referral routes are rarely adequate to address issues at work or in a patient's personal life. The problems become medicalised because pharmaceuticals and talking therapies are the options available to us. Most GPs recognise this over-medicalisation. In a survey over 70% of GPs recognised that on occasion they "are compelled" to sign notes for people for "other than medical reasons" but the demand from an increasing number of patients for a "solution" leaves us feeling powerless to intervene in any other way than by some form of "therapy."
If the government takes up the recommendation of an independent assessment service the experience of Fit for Work is that case management is vital to translate assessment into a return to work. The experience gained from the Fit for Work pilots can inform the provision of case management alongside the IAS, either as part of the service or independently commissioned by GPs. The alternative could see GPs left to struggle with return to work proposals that fall outside our clinical role in primary care and potentially harm the doctor-patient relationship.
Rob Hampton is a GP in Wigston, Leicestershire, and clinical lead for the Leicestershire Fit for Work Service. He has a special interest in occupational health and the health and wellbeing of the working age population generally.