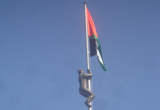 A new flagpole greeted us in Arafat Square in the centre of Ramallah, topped by the Palestinian flag (see photo). Some five metres below the top, a figure could be seen shinning to the top, and it wasn't an image of Arafat himself, nor was it a real person. The figure represents the Palestinian nation preparing for statehood after the UN vote which is anticipated next month. To us, it seemed the figure was slipping down, but maybe that was just a representation of the feelings of our colleagues on the Royal College of Paediatrics and Child Health (RCPCH) Palestinian child health course, about the current political situation.
Our course, running for six years as a Diploma in Palestinian child health, has now been accredited as a Masters in child health and our visit was to sign the agreement with Al Quds university, and to open the detailed discussions with our partner paediatricians on the changes needed in the curriculum in moving from a Diploma to a Masters. The first thought on hearing of the Masters idea was—surely this would not be appropriate for GPs and nurses working in primary care, who are our target for the course? The explanation was, that only with a Masters would the successful graduates receive the hoped for increment in salary which would allow them to pay the fee for the two year part time course, and enable it to be self-sufficient. When we talked to one of the UN relief and works agency GPs about the course he said that he thought 80% of his colleagues would apply and he hoped there would not be an upper age limit.
The course itself is built on modern educational principles of self learning and problem solving, includes nurses, and covers a broad field of child health. At the first steering committee meeting with Al Quds faculty members the public health Dean stated that the biopsychosocial approach is very important for Palestine, because doctors are excessively medicalised, and the comprehensive concept of care is absent. It is the first postgraduate course in the medical school and the Dean is hopeful that our example will lead to an expansion to other fields, and also to the development of a research capacity which is lacking, and much needed. In addition to developing the new course with Al Quds, the RCPCH has been awarded a grant from THET (Tropical Health Education Trust) to enhance the educational capacity at the medical school and to develop outcome measures for the students within their clinical situation—in other words, how will their practice change as a result of what they have learned? Now we are searching for measures which are both realistic and collectable to examine issues such as communication with parents and antibiotic prescribing.
In Ramallah, there are new cafes and restaurants and house building proceeds apace, but we were told that economically, the West Bank (and Gaza even more) are in a worsening economic situation as a result of the closures, problems with permits, and the near impossibility of exporting their produce. We saw the ever increasing settlement expansion and heard about the severe pressure on Palestinian land and water supplies: settlers use an average of 350 litres per capita per day, while rural Palestinians cope on less than 73 litres per capita (according to the Applied Research Institute of Jerusalem).
On the last day of the visit in Jerusalem, we chanced to meet Mordechai Vanunu, the former nuclear technician who blew the whistle on Israeli nuclear weapons back in 1986 and was imprisoned until 2004, much of the time in solitary confinement. He told us that he has been forgotten by the world despite the fact that his human rights have been removed; he is still closely confined and cannot leave the country. Here is a piece of advocacy which all of us could take up with our government.
Tony Waterston is a paediatrician in Newcastle-upon-Tyne, working mainly in the community with long term conditions, disability, child abuse and social and mental health concerns. His interests are in child public health, children's rights and global child health and he leads the RCPCH teaching programme in the occupied Palestinian territories. He co-wrote this blog with his colleague, Jean Bowyer.
Jean Bowyer is a paediatrician with a particular interest in neonatology, including neonatal cardiology and neurodevelopmental follow-up, and she was for more than twenty years a consultant in the UK. Before that she worked in Lebanon and Saudi Arabia for four years, and she has spent the last two years working with children with HIV in Kenya. Teaching paediatrics has been a major interest in all these posts.