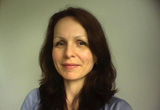 The car journey from Tel Aviv to Jerusalem lasts about an hour. There is an enveloping warmth in the air even at 2 am and it is eerily quiet. The UN car is veering into East Jerusalem, up the Mount of Olives, and finally to our destination: Augusta Victoria Hospital (AVH).
Next week this hospital in East Jerusalem will host the second basic surgical skills (BSS) course for Palestinian surgical trainees, as endorsed by the Royal College of Surgeons of Edinburgh (RCSEd). Acquiring safe fundamental surgical skills (e.g. suturing, knots, incisions, bowel anastomosis, haemostasis, vein patches, diathermy, and laparoscopy skills) empowers Palestinian surgeons from the West Bank and Gaza to tackle emergency cases which would otherwise be delayed in transit to larger hospitals due to roadblocks and checkpoints. A year on from my previous blog, nothing seems to have changed.
For the second year running the RCSEd surgical team of seven relish the privilege of being back amongst a wonderful and committed organising team from The Juzoor Foundation in Ramallah, who make the course happen on the ground. It feels like going to work, but with one's best friends.
The Edinburgh BSS course is divided into practical sessions over two days, which all the participants should complete to a good standard. The preparation of the workstations involving animal tissue is on all our minds, even before we set foot in Jerusalem, as we only have 24 hours to complete all our preparation tasks.
In the gentle Jerusalem light over strong coffee in the AVH garden, we plan the strategy for the next day. There are 20 candidates enrolled on the course, and one demonstrator, so we will need to prepare 21 identical practical specimens of every tissue that we are going to use for the workshop. Whatever geopolitical unrest could throw at us, it is upstaged by the very real "to-do" list in my hand. An RCSEd generated list has emerged from months of email correspondence between us and our formidable Palestinian nurse co-ordinator at the AVH.
We're thinking aloud—yes, all the tissues will arrive tomorrow. We hope the goat legs for the tendon repair are already shaven and that the sheep bowel will be harvested with mesentery. We are relying on the cow aorta to be long enough to give a segment of vessel to each pair of candidates, which is necessary to do a "vein patch."
The "vein patches" are cut out from my eldest son's school shirt, impregnated with spray-on plaster to give it the right "hold," so it does not cheese-wire when sown in.
It all starts tomorrow, 24 hours before the actual course starts. In Formula 1 the start is crucial, with the acceleration perfectly timed with the change in the lights.  For us, that green light is now truly on.
Magdalena Kincaid graduated from the University of Dundee and did her surgical training in Scotland.