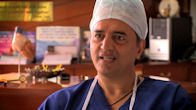 I believe the economy of the 21st century will be driven by the health sector. The economy of the 20th century was driven by machines which addressed human toil. The health sector can create millions of jobs for the extremely skilled, semi skilled, and unskilled workers.
These jobs are  vital for the stability of society.  Lack of employment is the root cause of unrest in the world today.  The health sector is also in a unique position to create millions of jobs for women. A woman coming from lower economic strata becomes empowered when she finds employment.  Empowered women will discipline and educate their children, who will in turn have the discipline and desire to build a great nation when they grow up.
We believe India will become the first country in the world to dissociate health care from affluence. Ten years down the line we will still have millions of people living in the slums with no amenities.  However, they will have access to high tech health care with dignity.  India can do it because India produces the largest number of doctors, nurses, and medical technicians in the world. Outside the US India has the largest number of US FDA approved drug manufacturing units. Our only missing link is that poor people don't have the money to pay for healthcare. This can be addressed by micro health insurance.
We launched such a scheme eight years ago. The Yeshaswini micro health insurance scheme proved that with just US$0.11 –yes that is just 11 cents per month – we can even, for example, cover the cost of major heart surgery. Yeshaswini now has more than 3 million farmers contributing 22 cents per month. It covers the expenses of 1650 different varieties of surgeries done on the human body.  We believe that government will gradually become a health insurance provider, rather than just being a healthcare provider.
I believe tax-payers' money can't pay for healthcare as life expectancy is increasing.  We are now trying to develop a concept of health insurance through mobile phones. We have 750m Indians paying at least  150 rupees per month just to speak on a mobile phone. If we can charge an extra 10 rupees per month towards an insurance premium, we will have the world's largest self sustaining health insurance scheme.
The cost of healthcare in developed countries will not come down unless Asia, Africa, and Latin America, develop a robust delivery model. Developing countries will provide the critical volume required for medical equipment, the  disposables, and the drug manufacturers, to bring their prices down. This is exactly how the cost of mobile phones dropped.
I believe that the poor quality of healthcare in Africa is not because it is poor, but because it does not have an adequate number of institutions to train doctors, nurses, and medical technicians. I would like to build low cost hospitals across Africa and conduct training programmes to train the healthcare manpower that is needed to deliver a high quality provision such as I am already offering at my Bangalore "health city."
Our intention is to develop a global university to train these health workers. The World Health Organization estimates that there is a shortage of 4m healthcare workers across the world. Even that figure is an underestimate. We already run a programme that supports and motivates 2000 children from rural India to become doctors every year. Thirteen year old children from village schools get a scholarship of $US10 per month if they promise to become doctors when they grow up. We also help them get a student loan to finance their education.
It is through innovative schemes like these and others that  the healthcare of the entire world's population can be transformed in the future. This isn't just a dream – it is something we are already turning into practical reality here in India as can be seen in Al Jazeera's series about our Bangalore health city.
This piece has been written to accompany a series of six programmes about Devi Shetty's health city currently being shown on Al Jazeera.
Dr Devi Shetty is founder and chief executive of Narayana Hrudalays Health City