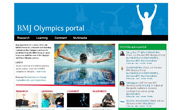 Love them or hate them, you can't escape them. Almost as big as the Royal Jubilee, the Olympic Games have already taken a grip on London and Londoners. And other parts of the country too by all reports. Various colleagues are going to the Olympics specifically because it is in London. So let's not be Scrooge McDuck and let's accentuate the positive.
The "Olympics Portal" provides the "BMJ Family" with first class access to a plethora of great clinical content at one convenient site. My GP friends are keenly aware that 20-40% of everyday practice relates to the musculoskeletal system. Knee pain in a 22 year old office worker, shoulder pain in a 70-year old who now cannot sleep, sciatica in a mum. A waiting room of "sports medicine" without any smell of liniment. (Such a great old word, right up there with the "linseed oil" for cricket bats). 
Physiotherapists, sports and exercise medicine physicians, and specialists of all stripes contribute to the care of those who play sport, exercise for fun, or who are in a "rehabilitation programme" for chronic diseases. Removing "sports and exercise medicine" from our clinical practice is akin to removing the Olympics from London right now. Pervasive—we hope not invasive.
Right now you can click on the BMJ Olympics Portal and understand how to diagnose asthma better. The high quality production can also help your patients. You can listen to a podcast by best-selling author Dan Heath (Made to Stick, Switch) on how we doctors might have more success with patients and administrators adopting some of our brilliant suggestions.  On this BMJ Portal I learned that an exercise programme from Sweden was able to reduce the need for shoulder surgery. Wondering how to examine a knee, hip, or shoulder? Or do you need to teach those skills? Just click on the very clear, concise videos.
All of us are time poor but swamped with what is often poor-quality information on the web.  The Olympics Portal brings together relevant useful material that has met the BMJ Group's rigorous standards—to make it easier for you to help you patient. And this is just the start—the site will be updated continually. The BMJ team will respond to issues that come to light under the global sporting spotlight—providing all of us with the type of learning opportunities that stick. I'm looking forward to being on a rapid learning curve thanks to BMJ's commitment to both active people and to those who need activity to be more healthy. And I know that BMJ wants to respond to your interests so use your favourite way of communicating (email, blog post, twitter, or Facebook) to alert BMJ to your needs.
Karim Khan is the editor, British Journal of Sports Medicine.