The Southbank Centre, London's art centre on the South Bank of the Thames, is holding a festival of death. The aim is "to look death in the eye…to confront mortality head-on through music, theatre, literature, and debate."
Learning about death from New Orleans and Mexico
As I arrive on Friday afternoon a stream of children dressed in extraordinary colourful costumes, many of them featuring skeletons, are following a New Orleans jazz band to the graveyard (in this case the Clore Ballroom in the Royal Festival Hall). In the classic New Orleans funeral the band plays a slow, slow march to accompany the coffin to the graveyard. Once the coffin is underground the band begins to play fast jazz for the walk back to the city. There is respect for both the dead and the living.
The children, organised by the inner city charity Kids Company (no unfashionable apostrophe), are also celebrating a Mexican Day of the Dead, when you go down to the graveyard and hold a party with your dead ancestors. A girl reads a poem she has written about her own funeral: "it will be a sunny day…there will be streamers and banners…a big video screen with my picture on it…people think I'm strange, but I'm not." There's a huge round of applause and whooping from the audience. Nobody here is sad, but it's fine to be sad.
Coffins from Ghana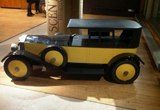 The Ghanaians lead the world in building wonderful coffins—and Sarah Murray, a journalist from the Financial Times who has written a book on death rituals around the world, has already ordered hers. An exhibition includes coffins in the shapes of a mango, a white car, a Viking longship, a yellow Rolls Royce, a beer can, and a cocoa bean. A cocoa bean is popular in Ghana because so many people are cocoa farmers. You'd be buried in the fetal position, beginning and ending in the same shape.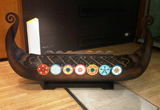 I've always fancied my dead body being made into pies, but maybe I should select a coffin. My equivalent of a cocoa bean would probably be a computer. I must ring Accra. I'm fearful that there'll be a very long waiting list.
Before I die I want to…
Last week's BMJ included a picture of the public art work "Before I die I want to…," where people are invited to chalk in their own answers. It looks good and is attracting lots of attention. Answers include…bring back Karl Marx, go to Mars, teach my dog to make a cup of tea, make sure I tell my mum I love her (very good advice), and have lived life to the full. Two people have written "lose weight," a wish that may well be fulfilled but not perhaps in the way they imagine.
Another art work has a circle for every birth and every death: over 12 hours 100 000 babies are born and 70 000 people die. The world is filling up.
Music to die for
The first evening ends with a concert entitled "Music to die for," but it could have been "Music to die to," or even "Music to be cremated/buried/disposed of to." If you want a high class funeral you might want to keep the next few words as a reminder of possible music for your funeral—and one of the main messages from the whole festival is "Start planning your funeral now…it's never too early."
The music was played by the BBC Concert Orchestra, which prides itself on its capacity to play funeral music, Lionel Bart, and the most avante garde music all in one week, conducted by Keith Lockhart, who selected the music and once conducted the Boston Pops with an audience of 10 million. He said that he thought that music was so important at funerals and to help us confront death because it can express what is inexpressible in words. The concert also featured the Hertfordshire Chorus, around a hundred people who packed a tremendous punch.
Everybody was in black, and the concert began with Saint-Saens's "Danse macabre," a very familiar piece that represents the medieval dance of death when skeletons danced with kings, emperors, bishops, saints, and peasants, reminding us that death is the great leveler. I wished it could have been a touch more macabre. After two movements from Mozart's "Requiem" we had "Der Abschied" from Mahler's "Das Lied von der Erde," written after he'd been sacked from his conducting job, his 4 year old daughter had died, and he'd been diagnosed with a heart condition that he was told would kill him in two years. It's surely one of the finest depictions of dying.
After the interval and in complete darkness we heard Purcell's "March in C minor," which was written for Queen Mary's funeral in 1695 and was then played at Purcell's own funeral in the same year. There were words in this conference, something I'm generally against,  but one of the bass players shared his thoughts on death, pointing out that "it would be a bit of a break from the daily routine…and that there is no need to book death in your diary as it will take care of itself." He suggested as well that we might "like to take a peek at our own funeral to see if the girl from accounts we'd always fancied but never been brave enough to say so to, would come and even cry."
Then into "The Swan of Tuonela" by Sibelius, an exquisite piece, followed by John Taverner's "Song for Athene," a haunting choral piece that was played at Princess Diana's funeral, a time when Britain experienced a "Latin American carnival of grief." After Barber's "Adagio for Strings," "the saddest piece of music written," and "In paradisum" from Faure's Requiem, "a lullaby to death," we ended with "Libera me" from Verdi's "Requiem," which was also played at Princess Diana's funeral. If you want to go out with a bang this is the piece for you.
Filled up with the music of death, I thought about what I'd like for my own funeral. I'll have to have a movement from one of Bach's "Cello suites" as I've listened to them every week for 15 years. I must have Coltrane playing "Out of this world," and I'm tempted by Miles Davis playing "Summertime" and a version of "St James Infirmary Blues," perhaps the one by the White Stripes.
I tweeted my choice, and my brother responded saying: "It shouldn't be for you to choose, you won't be there. We should choose." I responded "Surely the corpse is the start of the show," and he came back "Just like a Cliff Richard concert."
I went home feeling very good, looking forward to more death tomorrow.
If you're tempted to know more about the Festival of death follow me on Twitter (Richard56) and search for the hashtag #deathfest.
RS was the editor of the BMJ until 2004 and is director of the United Health Group's chronic disease initiative.