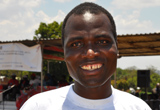 World pneumonia day this year was occasion for a huge celebration in Malawi, as we had chosen the day to introduce pneumococcal vaccines, which will protect our children from the leading cause of pneumonia.
In Malawi, pneumonia contributes to 14% of all hospital admissions and 18% of hospital deaths in children under five. The introduction of the new vaccines, supported by the Global Alliance for Vaccines and Immunisation (GAVI Alliance), is a part of our multi-pronged approach to fighting this deadly disease through prevention and treatment. As well as immunisation, we are promoting healthy practices that will help to make children less vulnerable to pneumonia, and for those who do fall ill, we are promoting effective case management.
Malawi has already introduced measles, diphtheria, and whooping cough vaccines into its routine immunisation schedule; these vaccines also protect children from pneumonia as it is a common complication of these diseases. GAVI helped Malawi to introduce the Heamophilus influenza b (Hib) vaccine in 2001. Hib used to be a major cause of pneumonia in Malawi, but since the introduction of that vaccine, the number of Hib pneumonia cases has fallen radically. Between them, the Hib vaccines and the pneumococcal vaccines we introduced on 12 November this year could reduce over 50% of deaths due to pneumonia. 
Around the world, these vaccines are expected to save some seven million children's lives by 2030. Thanks to the experienced and well organised expanded programme on immunisation in Malawi, it is expected that 1.2 million children in this country will be vaccinated with pneumococcal vaccines by the end of 2012.
Malawi's other ways of fighting pneumonia are also seeing success. At a hospital level, working extensively in 45 hospitals, pneumonia deaths have been reduced from 18 deaths per every 100 people to 5 deaths per every 100 people. This has been achieved by using simple and inexpensive antibiotics, investing in improving health workers' skills through courses, and providing oxygen concentrators. At a community level, Malawi has introduced village clinics that are operated by health surveillance assistants who are able to administer antibiotics to treat pneumonia. Breast feeding, improved nutrition, and the reduction of indoor air pollution have been strengthened in the country. All of these simple interventions help to make our children less vulnerable to pneumonia.
Through these and other improvements, Malawi is proud to be on track to meet Millennium Development Goal 4, to reduce child mortality by two thirds by 2015. And we would like to recognise the contribution of donors and partners, such as the GAVI Alliance, who have helped to make this possible.
Our slogan is "We are fed up with childhood deaths," and our drive is "With passion, dedication and commitment we can bring fantastic changes our patients need."
No child should die of a disease we can prevent or treat and I look forward to the day when the passion, dedication, and commitment of all partners working to improve child health will mean pneumonia will no longer claim children's lives in Malawi and around the world.
Norman Lufesi is the manager of the acute respiratory infection (ARI) control programme and the emergency triage assessment and treatment programme in Malawi. He is a clinical officer.